India is popular for its regional, topographical and climatic diversity. Its variety in topography includes mountains, green lush terrain, dense forest, plains, uneven landscapes, etc. These geographical areas provide a home to a huge variety of flora and fauna all around the Indian subcontinent supported by a variety of physical and climatic conditions. The climate varies from place to place and supports different types of extraordinary, endangered and non-endangered species of flora and fauna. You can thus find a variety of flora and fauna in the national parks and wildlife sanctuaries of India. 
There have been mass extinctions of wildlife and vegetation all over India that has cost in balance is in the ecosystem as well as the biodiversity. You will find huge numbers of national parks and wildlife sanctuaries in India. There are bird sanctuaries and other wetlands established throughout the country to prevent endangered animals from extinction. All these places not only preserve the wildlife and vegetation but also provide them protection in the natural environment so that they are protected from any type of artificial or human interference. 
Due to the preservation of vegetation and wildlife, there has been an increase in the number of endangered animals. These national parks and wildlife sanctuaries in India also promote different types of wildlife activities such as wildlife, safari tracking, etc. In 1917 there were only five national parks all over India. 
Most Popular National Parks and Wildlife sanctuaries in India
Sundarban National Park
This is a natural habitat of the royal Bengal tigers and is one of the UNESCO World Heritage sites. Its location is in the south 24 Parganas district of West Bengal. On the parts of the Sundarbans on the Ganges delta, the Sundarban National Park came into existence in 1984. 
This place is popular for being the world's largest mangrove forest. Due to its location at the border of India and Bangladesh, it is capable of providing an ecological balance. Thus it is also popular as nature's jewel on the planet. The Sundarban National Park is not only a national park but also has several roaring rivers, estuaries and forests. The National Park is both a tiger reserve as well as a biosphere reserve. It is the home of more than 400 Bengal tigers. 
This National Park provides a wonderful opportunity for wildlife lovers and those who want to get soaked into the enchanting natural environs. The best time for visiting the Sundarban National Park is from September to March. Kolkata Airport is the nearest airport to this National Park around 100 km away.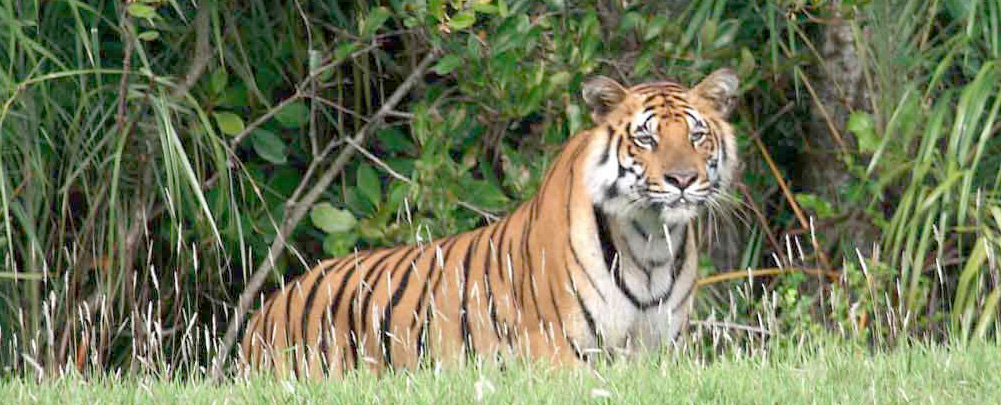 Satpura National Park
The Satpura National Park is a biodiversity-rich National Park located in the Hoshangabad district of Madhya Pradesh. In 1981 it was established and was named after Satpura Range. It was declared as a tiger reserve in 2000. According to people, this National Park was explored by Captain James Forsyth of Bengal Lancers in 1862 while he was searching for the Indian freedom fighter Tatya Tope. 
The total area conserved under this National Park is 1427 square kilometres including the Bori and Panchmarhi sanctuaries and Satpura Tiger Reserve. It is popular for its unique Highland ecosystem. The best visiting time is from October to June. The Bhopal airport is around 200 km away from the Satpura National Park and is the nearest airport to the park.
The uneven landscape of the park surrounds dense forests, ravines, sandstone peaks and narrow gorgeous. A wide range of species of fauna including Chital, Sambar, leopard, bear, nilgai, blackbuck, flying squirrel, wild boar, chinkara can be ported here. Similarly, a huge variety of fauna species like teak, bamboo, sal, mahua and many other medicinal plants can be seen here.
Ranthambore National Park
The Ranthambore National Park is located in Sawai Madhopur, Rajasthan. It is North India's first biggest National Park which covers an area of around 392 square kilometres. The Kaila Devi Sanctuary and Mansingh sanctuary around the National Park. In 1955 Sawai Madhopur Game Sanctuary was formed which further in 1980, 1st November came to be known as Ranthambore National Park. In 1973 the Government of India declared the National Park as Project Tiger Reserve. 
It is quite popular for its Bengal tigers. The park protects several other reptiles, birds species and wild species including rhesus Macaque, Sloth bear, mugger crocodile, Southern plain, grey langur, nilgai, Indian leopard, striped Hyena, sambar, etc. It is also famous for its treatment of nature lovers and wildlife photographers. The best time from the month November to May for visiting this National Park. The nearest airport is in Jaipur 182 km away from the National Park.
Kaziranga National Park
The Kaziranga National Park has its location between the areas of two districts in Assam known as Nagaon and Golaghat. It is a UNESCO World Heritage site and is famous for one-horned rhinos. It consists of two-third of the world's total number of rhinos. The National Park is located on the banks of the river Brahmaputra. The network of several water bodies nourishes the flora and fauna of the park including the elephant grass and tropical moist broadleaf forests.
In 2006 the park was declared as a tiger reserve. It provides natural shelter to other wild animals including samp deers, elephants, buffaloes etc. It has been recognised as an important bird area for antifungal species conservation by birdlife international. The nearest airport is Jorhat airport which is 97 km away from the National Park.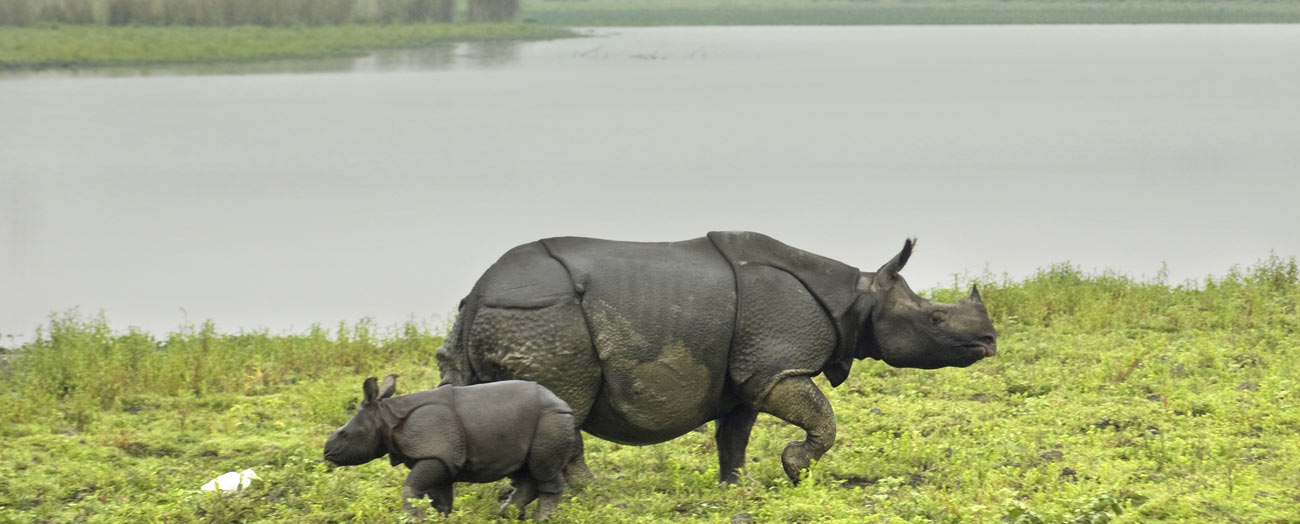 Jim Corbett National Park
The Jim Corbett National Park is located in Nainital, Pauri Garhwal, Uttarakhand. It came into existence in 1936 as Hailey national park and further, and has its name after Jim Corbett, a naturalist and hunter. There are a total of 500 species of flora and fauna found here and it is one of the most visited national parks in India which is famous for its wildlife Safari. 
The total area covered by the Jim Corbett National Park is 520 square kilometres including the marshy land, lakes, hills, river belts, grasslands, etc. It provides shelter to 300 wild elephants, 200 tigers and other animals such as peacocks, crocodiles, otters, sloth bears and several species of monkeys. These animals roam around inside the national park showing the tourist activities are limited inside the areas of Corbett Tiger Reserve. The most suitable period for visiting the park is the month of November to May. It is near the Dehradun airport which is 156 km away.

Kanha National Park
The Kanha National Park is located in Mandla, Madhya Pradesh and is one of the most sought destinations of India. It is a well-known tiger reserve Park in India and covers around 1940 square kilometres. It came into existence on 1st June 1955 and became very popular among the people due to the efforts they have put in saving the rare and almost extinct species such as swamp deer also called Barasingha. 
Earlier it was divided into two centuries named Banjar and Hallon that covered 300 and 1973 square kilometres respectively. It is considered one of the most well-maintained parks in Asia. One of the other reasons for its popularity, the sunset point or the Bamni Dadar, which attracts a lot of tourists from all over the place because from this point the entire park can be seen. The park portrays one of the most eye-catching views of nature in its wild form. The best time to visit the Kanha National Park is from October to June.

Gir National Park and Sasan Gir Sanctuary
The Gir National Park and Wildlife Sanctuary are located in the Junagarh, Gir Somnath and Amreli district of Gujarat.  Sasan Gir or Gir National Park came into existence in the year 1965. It has an area of over 1412 square kilometres. The entire area is divided into small protected areas, National Park and Sanctuary covering an area of 258 sq km and 1153 sq km respectively.
The Gir National Park is the home of 40 mammals and 300 bird species and an endangered species i.e 52 Giants pure Asiatic lions. After the conservation project, the number of big cats increased with time. The species in the park are the mongoose, golden jackal, rattles, wild boar, chital deer, nilgai can be found here as well. The National Park remains close in the summer monsoon from June 16th to October 15 thus the best time to visit the Gir National Park and Wildlife Sanctuary is from December to March. It is 150 km away from Rajkot airport.
Chinnar Wildlife Sanctuary
The Chinnar Wildlife Sanctuary is the second-most largest wildlife sanctuary in Kerala located on the Western Ghats and shares its boundaries with Tamil Nadu on Anamalai Hills. It is home to 34 species of mammals including spotted deer, Indian Elephant, Nilgiri tahr, panthers and tigers. It also consists of 240 species of Exotic birds and the dwelling of mugger Crocodile. The Thoovanam waterfalls inside the forest attract a lot of tourists. It is also popular as one of the most favoured trekking and campaign destinations in Kerala.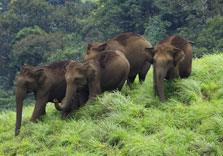 Dandeli Wildlife Sanctuary
The Dandeli Wildlife Sanctuary is Karnataka's second largest wildlife sanctuary. With its location at the banks of the Kali river, it is a prominent tourist place. It is one of the most popular Wildlife sanctuaries in India. The most common variety of fauna supported here are black panther, tiger, flying squirrel, leopard and elephant. Also, there is a huge range of amphibians such as crocodiles are the reason for the huge number of visitors. It also supports different activities such as trekking, river rafting, bird watching, crocodile and tiger spotting.
Rajaji National Park
Heaven on Earth, Rajaji National Park has its location at the foothills of the Himalayas. It is one of the most stunning Wildlife sanctuaries in India which provide shelter to around 49 species of mammals. These include Bengal tigers, Asian elephant, leopards, Himalayan black bear, wild boar, barking deer, rhesus macaques, yellow-throated martin, etc. 
The existing fauna is diverse in tropical and subtropical woods such as Sal forests, riverine forests, grasslands, subtropical Pine forests and scrub forests. There are approximately 315 species of birds including pied hornbill, peafowls, Himalayan pied Kingfisher, firetail sunbirds, woodpeckers, peasants and barbets. There are around 60 species of butterflies that exist in8 families at the park. The climate attracts a lot of travellers to the Rajaji National Park. The most suitable time to visit this Park is from December to March. People also enjoy bird watching and wildlife safaris from November to February.
Periyar National Park and Wildlife Sanctuary
One of the famous South Indian National Park is this Periyar National Park and Wildlife Sanctuary which came into existence in the year 1982. It is located in the Idukki and Pathanamthitta district of Kerala, in the South Western Ghats in Pandalam and cardamom Hills. The park has an area of 777 square kilometres. There are several different types of wildlife adventure activities that take place out here. Some of them include rafting jungle safari which attracts many tourists and wildlife lovers throughout the world. 
The rivers Periyar and Pumbaa pass through the park and give it an enchanting environment and mystical feel. Therefore it provides support to 45 reptiles species, 160 butterfly species and 266 bird species along with a number of Bengal tigers as well. The best time for visiting Periyar National Park and Wildlife Sanctuary is from December to March. It is near the Madurai airport which is 136 km away.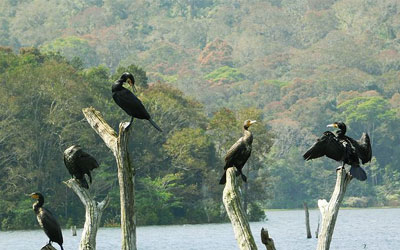 The Great Himalayan National Park
The Great Himalayan National park lies among the snow-capped peaks of Kullu and the lush coniferous forest in Himachal Pradesh. It is among the highest altitudinal National Park in India. Due to the location, the Emerald meadows and other stunning features, it is the most stunning parks in India and attracts many tourists.
It is home to Himalayan brown bear, blue sheep, Himalayan tahr, Musk deer and snow leopard. It also contains 181 species of birds and other species of reptiles, amphibians, insects and annelids.
Conclusion
There have been many changes that have improved the lives of wildlife and vegetation. Over the period,  the number of wild tigers has decreased to 1800. This led to the formation of the Project Tiger and Wildlife Protection Act in the next two years. Thus it has increased Tiger count. Today there are more than 100 national parks and wildlife sanctuaries in India that preserve its flora and fauna. Indian subcontinent today stands as a Wildlife tourism hub for all nature lovers with a huge number of rare species. You can also read about Top 10 Sikkim Culture Facts!