Mirzapur has been seen as the perfect gangster drama. The dark, bold web series is on the point, it has made us all stick to the screens. From the authenticity, the plotline, and the actors, this web series is a must-watch for everyone who enjoys a good thriller. Furthermore, the Indian web series is a crime thriller that revolves around drugs, guns, politics full of violence, and dark humour. Here are the Top 10 Kaleen Bhaiya Dialogues from Mirzapur TV Series
Mirzapur: Bewildering Scenes and Breathtaking dialogues
Since Mirzapur was released in 2018 on Amazon Prime Video, the web series has gained a cult following. A crime thriller starring Pankaj Tripathi as Kaleen Bhaiyya, Divyendu Sharma as Munna Tripathi, Ali Fazal as Guddu Pandit, and Vikrant Massey as Bablu Pandit, deliver strong performances in the series. Mirzapur season 2 was dropped last year, fans are already speculating what will happen next. As per the latest theories, Munna is the brother of Kaleen Bhaiya in season 3 starring Pankaj Tripathi and Ali Fazal, and it will be released in 2022.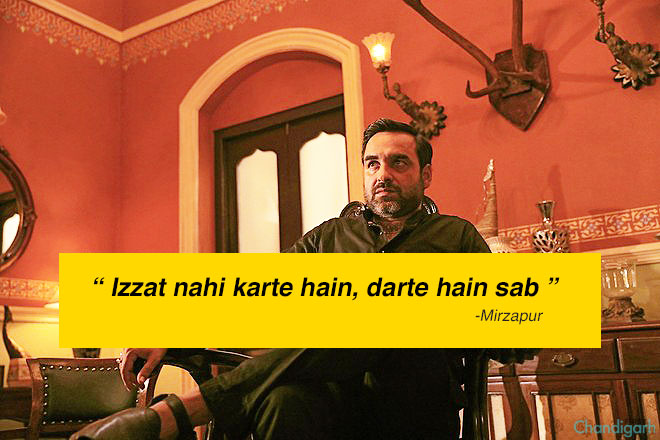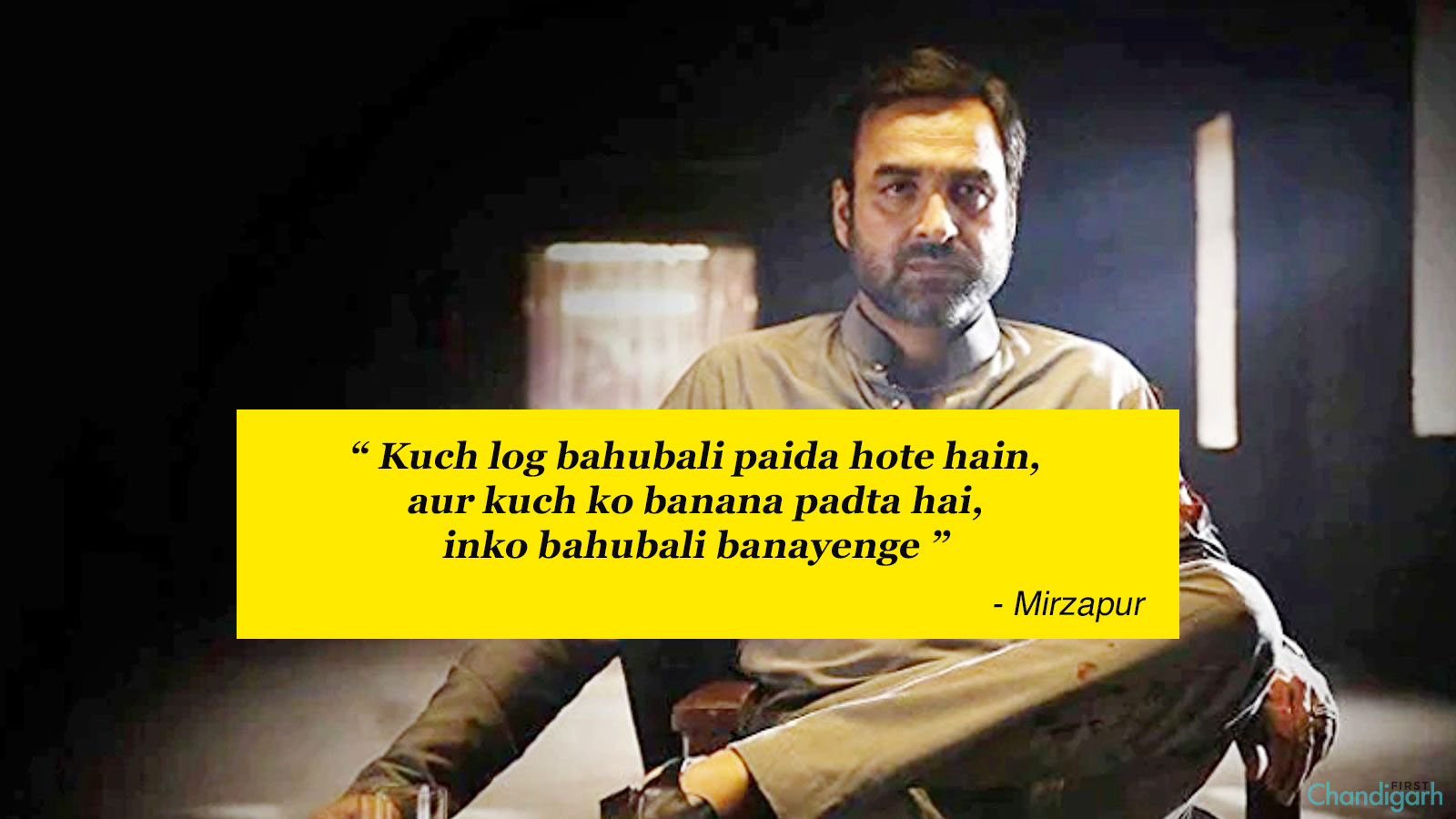 The Magnificence of Kaleen Bhaiya Dialogues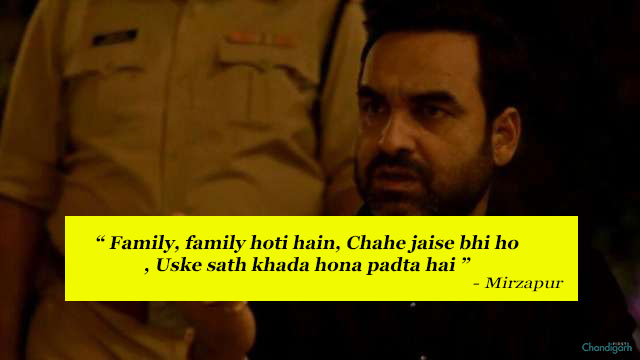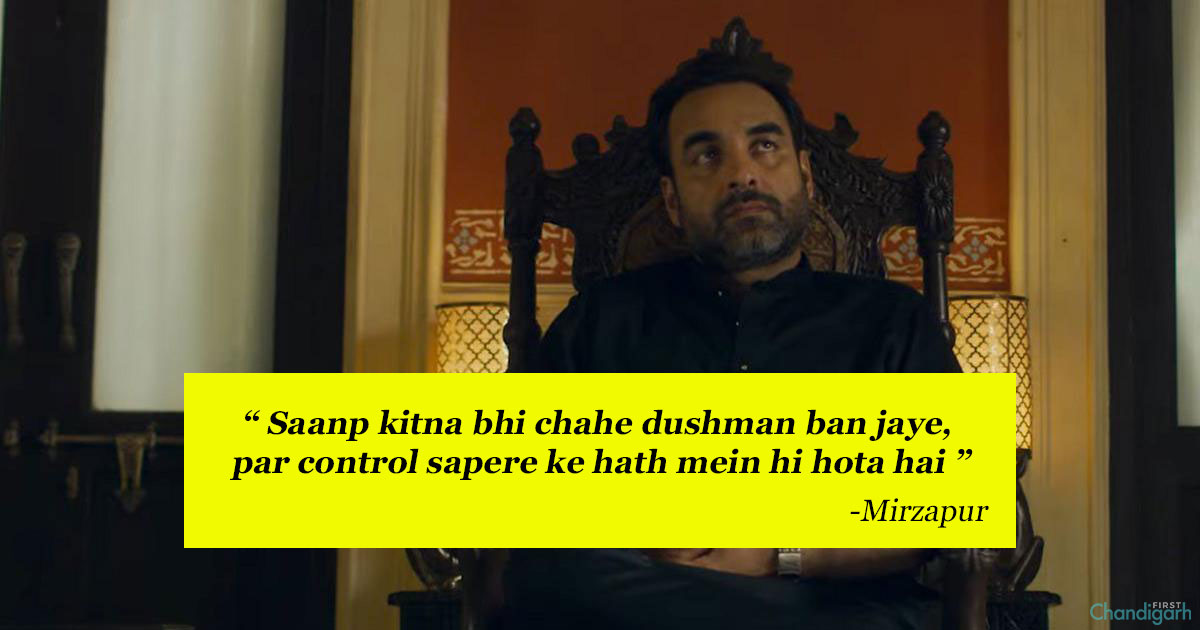 Mirzapur is one of the most successful series in India. The crime thriller story that dwells deep into the lawlessness, rivalry with guns, and fights all around has a promising cast. Every actor and character in the series got all the name and fame. But today, we talk about our dear Kaleen bhaiya dialogue played by the versatile senior actor Pankaj Tripathi. Pankaj Tripathi is the powerhouse of a performer and his performance in Mirzapur in the role of Kaleen bhaiya dialogues was effortless and breathtaking.
The Amazon Prime Web Series Mirzapur created quite a buzz when it came out. Apart from the amazing performance of the actors, something that also caught the attention of the masses is the badass punchlines and dialogues from Mirzapur. After the trailer of the series, memes were trending on social media by picking up the Kaleen bhaiya dialogues from the trailer. It shows the madness of the audience and how much this show holds recognition in the mind of the audience. 
Also, know the List of Best Indian Web Series That Will Blow Your Mind
What does Kaleen Bhaiya have to say about his dialogues?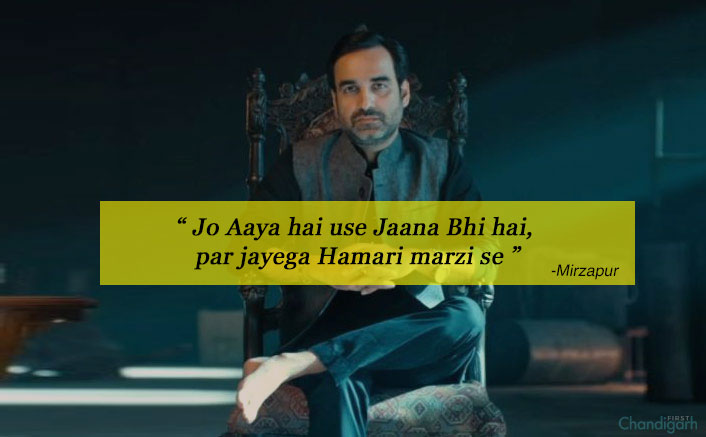 The actor shares his favourite dialogues from the previous season. The actor shares his favourite dialogue that's in Season 2's trailer, "Jo Aaya hai use Jaana Bhi hai, par jayega Hamari marzi se". It is actually inspired by the Bhagavad Gita. This means that this world is temporary and people here are just guests for a short while, but people get attached to it. So, it is "quite on a philosophical level" and "I find it very interesting." Social media was flooded with audience reactions to the trailer.
Speaking of the dialogues, every dialogue has been the audience's favourite, but Pankaj Tripathi reveals his favourite Kaleen bhaiya dialogues of Mirzapur. Pankaj Tripathi has delivered an amazing performance in Mirzapur. Furthermore, the actor has a different way to attract his audience. Moreover, the way Pankaj Tripathi delivered every Kaleen bhaiya dialogue of Mirzapur Season 1 created an impact on the audience's mind.
What does the writer have to say?
Like Sacred Games, Mirzapur dialogues also served to be the perfect memes that wreaked mayhem on social media and left us in splits. Karan Anshuman said that "when I wrote 'Mirzapur', I kept that in mind and named Pankaj Tripathi's character as Kaleen bhaiya because we had in mind that he would smuggle the drugs under the carpets". Anushman is an Indian film writer, director, and producer. He is the creator and director of the Emmy-nominated drama film Inside Edge. He is also the director and writer of Bangistan and the creator, director, and writer of Mirzapur
Best Kaleen Bhaiya Dialogues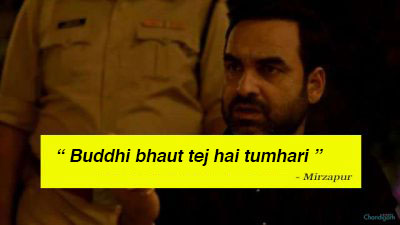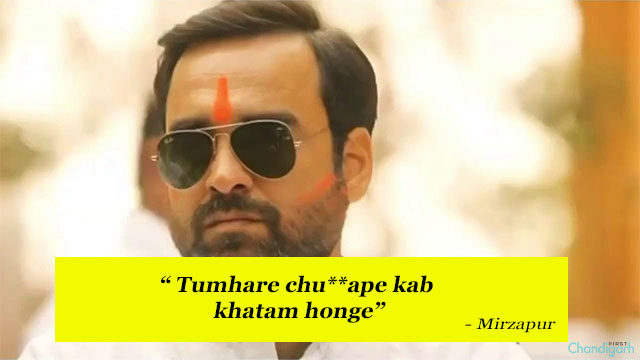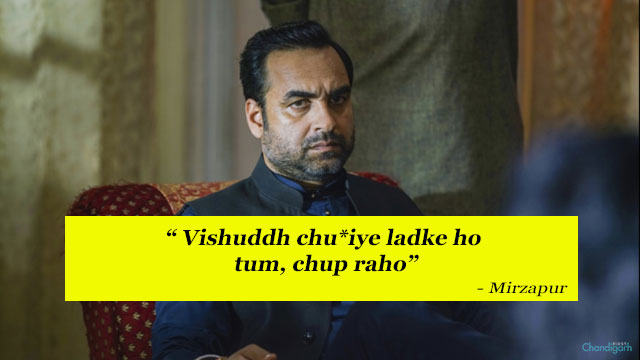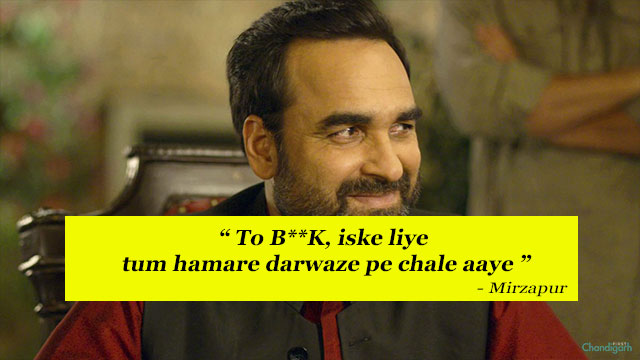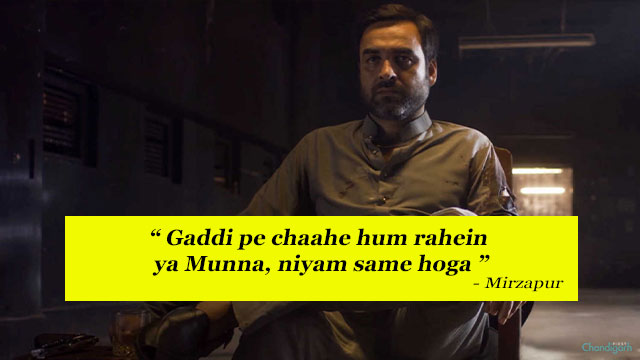 Kaleen Bhaiya was known for his pacey and trademark dialogues and we are simply going to list them here. So here we go. 
Izzat nahi karte hain, darte hain sab

Tumhare chu**ape kab khatam honge

To B**K, iske liye tum hamare darwaze pe chale aaye

Kya chu**apa hua hai ki raat ko ruka nahi gaya

Vishuddh chu*iye ladke ho tum, chup raho

Munna mo*e hain, Munna hi paani daalenge

Test karke ni liya tha?? kitta me liya?? woh 1500 waala. Ab 1500 me bdsk ak – 47 chahiye tumko

Saanp kitna bhi chahe dushman ban jaye, par control sapere ke hath mein hi hota hai!

Family, family hoti hain, Chahe jaise bhi ho, Uske sath khada hona padta hai

Jo aaya hai, wo jayega bhi bas marzi hamari hogi

Buddhi bhaut tej hai tumhari.

Gaddi pe chaahe hum rahein ya Munna, niyam same hoga

Kuch log bahubali paida hote hain, aur kuch ko banana padta hai, inko bahubali banayenge
Wrapping it Up
Intense acting, great dialogue delivery, impeccable actors, and gripping storyline- these are just some of the many reasons why Mirzapur is a show that we all binge-watched. Not only Kaleen bhaiya dialogues but also the acting skills as the King of Mirzapur is brilliant. Even the other cast members including Ali Fazal (Guddu Pandit), Divyendu Sharma (Munna Tripathi), Vikrant Massey (Bablu Pandit), Rasika Dugal (Beena Tripathi), and Shweta Tripathi (Golu Gupta) and others have done a stellar job.
Mirzapur is a monster smash and one of the best Indian crime Amazon Prime web series. It's also known as the backbone of the Indian web series industry. Following the conclusion of season 1, the audience was in suspense. Furthermore, the launch of season 2 was a blockbuster. Within seven days of its debut, Mirzapur 2 became India's most popular online series. The rustics' uncooked plot, adrenaline, and mind-blowing Mirzapur dialogues are what keep the viewers glued to this series.
It is a power-pack series that is quite popular among the youth in India. Pankaj Tripathi executes the Kaleen bhaiya dialogues brilliantly, and all of the characters in the web series are perform well. Every Mirzapur fan knows the Kaleen bhaiya dialogues from the show. All the conversations are memorable and really entertaining. Relive the moments of Munna Bhaiya's tough attitude and Guddu Pandit's bravery with this compilation of top 10 Kaleen bhaiya dialogues from Mirzapur, a masterpiece web series. Furthermore, there are lots of dialogues in this series. Here, we have compiled some of the best collection of Kaleen bhaiya dialogues in the Hindi language.