Fantasy anime is the most popular anime genre in the world.  However, just as there are television shows about wonderful worlds full of beauty and magic, as there are shows that explore a darker side of the world. The dark fantasy anime focuses on human nature by showing us the world would be no less than cruel if magic was real. In fact, magic may make things worse. 
Also, the dark fantasy anime shines a light on deeper subject matters, often exploring the basest aspects of human souls, like mental illness and death. Characters walk the line between evil and good, addressing the concept of morality. Therefore, these anime can give its viewers a realistic experience, even though the setting may be unbelievable. This combination of fantastical atmosphere and mature themes is fairly common in anime. 
If you are looking for a show with absorbing worlds, complex characters, and storylines where the human condition and morality take the center stage then you came to the right place. Although, given the number of dark fantasy anime available, it is worth updating this list from time to time. 
15 Best Dark Fantasy Anime 
Fullmetal Alchemist: Brotherhood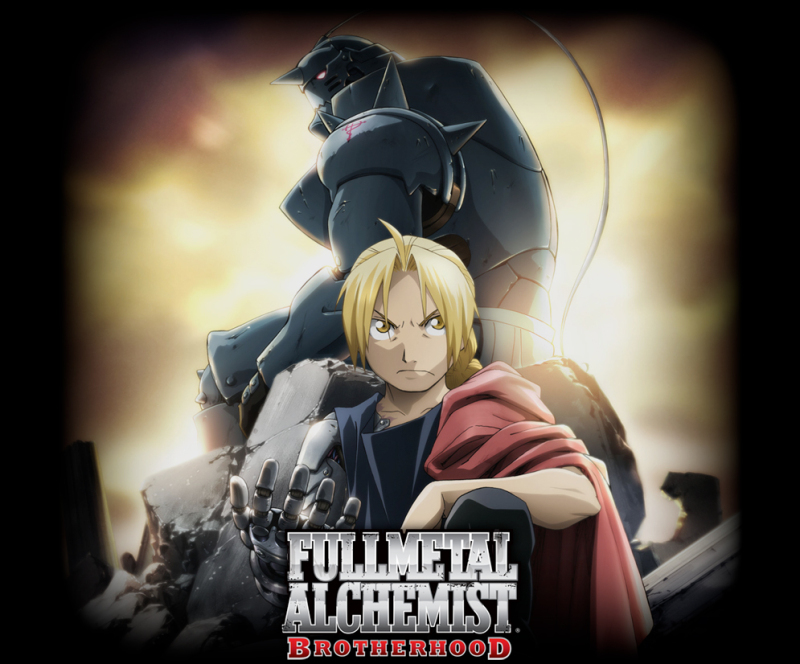 Set in the military-ruled nation of Amestris, Fullmetal Alchemist: Brotherhood is a dark fantasy anime that explores the consequences of playing God and the destruction it can bring. 
It tells the story of two brothers who lose their mother to a fatal disease. With the power of "alchemy", they use forbidden knowledge to bring her back to life. The process fails, and as a penalty for using this type of alchemy, Edward Elric, the older brother loses his left leg and right arm. Alphonse Elric, the younger brother, loses his entire body. They end up joining the military with the aim of finding the Philosopher's Stone, which could give back their lost bodies. 
During their travels, they learn the truth about the country's history and the corruption at the higher levels of the military. The brothers take it upon themselves to change the country's future.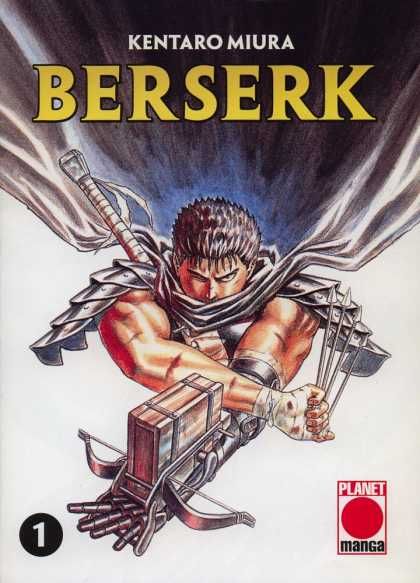 Berserk is a widely-loved dark fantasy anime.  It answers life's meaning in such an honest, innate experience. Following the painful path of Guts, this show gives plenty of epic battles. Even as it tells a story of survival by our loyal hero.
This show tells the story of Guts, who is a skilled swordsman. After killing his guardian in self-defence, he runs away. Many years later, he meets a mercenary group, The Band of the Hawk, and Griffith, a member of the group. The Hawks fight to save the King of Midland. After winning a huge war against the neighbouring country, they become the King's personal guard. Although, once they win the battle, things take a turn for the worse.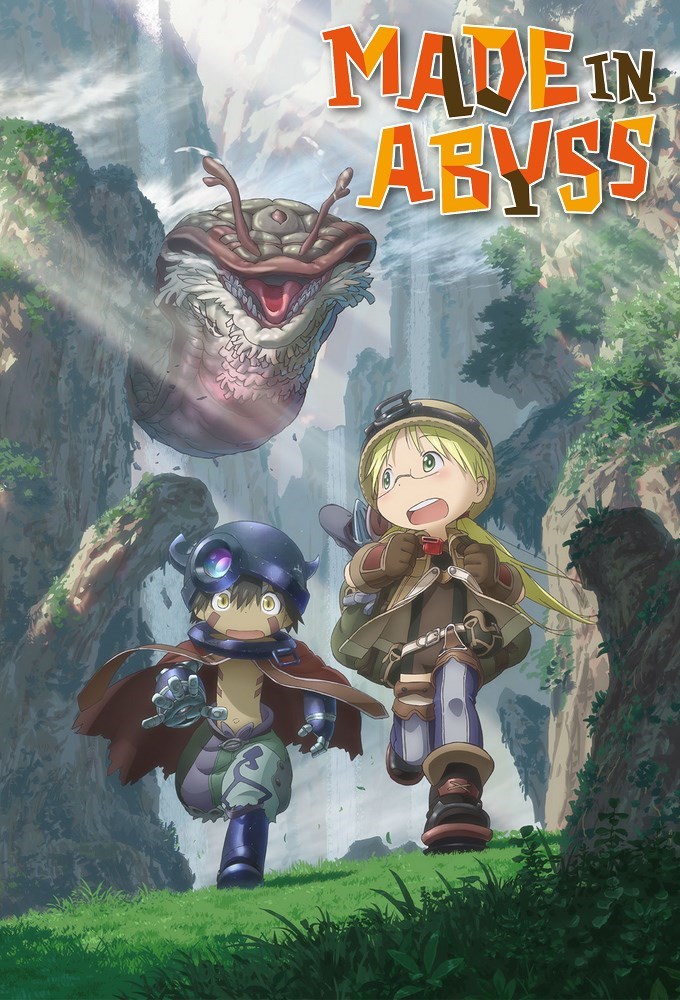 Made in Abyss tells the story of a young Diver girl, Riko, who desires to be able to probe the great depths of the Abyss. Although, since she is just a beginner herself, she has only been allowed to swim on the topmost layer. Then she encounters a robot made to look like a human. Riko names him Reg and vows to help him find out his identity. Reg and Riko set out for the deepest parts of the river Abyss, expecting to find out Reg's past. However, neither of them are prepared for the adventure. 
One of the most humble dark fantasy anime of its time, Made in Abyss instantly became a fan-favourite with its emotionally gripping storyline. This is another show about sacrifice and the darkness that humans can fall into when emotions like hate overcome the love for other living beings. 
The disturbing nature of some confessions does not exceed the brilliance of Made in Abyss. In fact, this show does not shy away from important existential questions, even when hard. And that makes it stand out from the rest.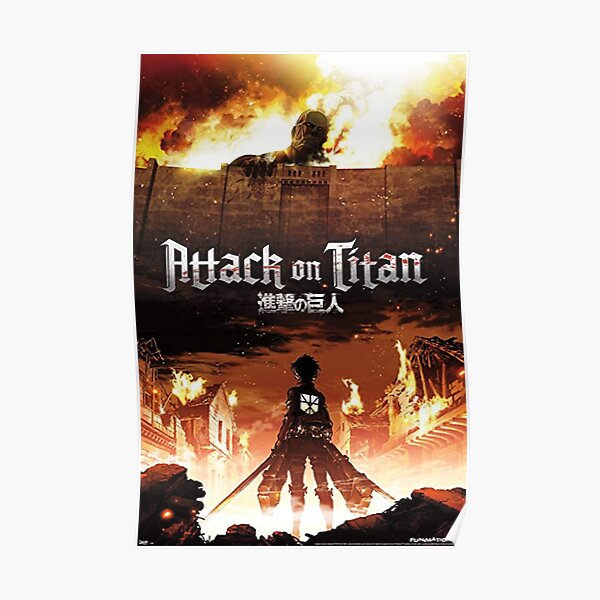 One of the most famous dark fantasy anime of its time is Attack on Titan – a savage show that's not afraid to kill off the main characters if that's what is important to tell the story. However, it is certain that Attack on Titan will keep you interested from the very beginning because of its gripping and original plot. 
The show is set in a post-apocalyptic world where humans are nearly eliminated by man-eating giant creatures known as Titans. Titans are generally several stories tall and seem to have no intelligence. In addition, they eat human beings and they do it just for pleasure. A very small percentage of humans are still alive by keeping themselves protected inside a city enclosed with extremely high walls, taller than the biggest of Titans. After nearly 100 years of peace within the walls, a Titan larger than the walls appears out of thin air and destroys the outermost gate. Witnessing the horror of Titans first-hand, a teenage boy Eren Jaeger pledges to win back the freedom of humans and rid the world of all Titans. 
The Ancient Magus' Bride ( Mahoutsukai no Yome )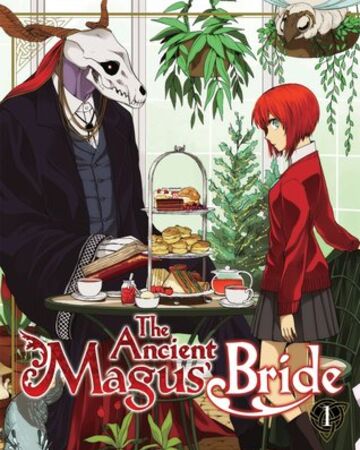 The Ancient Magus' Bride is a dark fantasy anime that takes itself seriously. It deals with subjects like death and the meaning of life. The main character, Chise becomes an addition to us, exploring this beautiful world while dealing with her own demons of the past. This show is a perfect balance of dark seriousness and lighthearted humour. 
The anime tells the tale of Hatori Chise, a 15-year-old girl who lives alone. Lost, without family and without hope – she sells herself to a non-human sorcerer, Elias Ainsworth. Now Chise becomes Elias' apprentice. As a sorcerer, Chise will now have to find out more about the things she is afraid of, and about the world that took everything, which was important to her. 
Demon Slayer ( Kimetsu no Yaiba )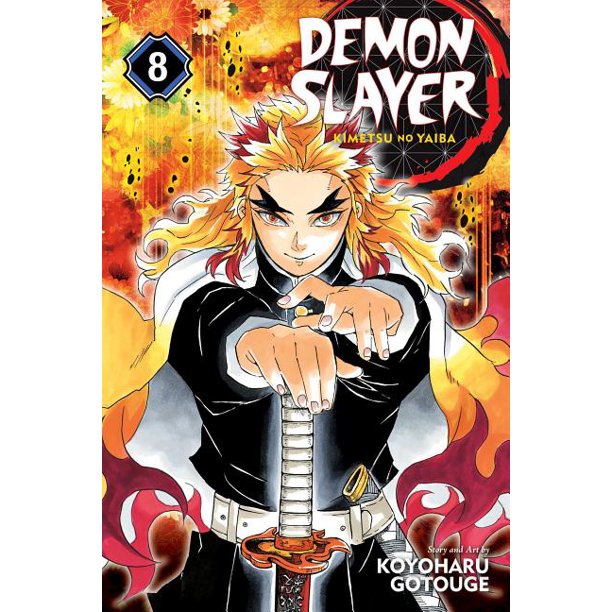 If you're looking for an anime that won't leave you depressed and red-eyed, Demon Slayer is worth a watch. The emotions and story that run through this show are breathtaking. Dark fantasy anime is rarely made like this anymore. 
After his sister becomes a demon and his entire family is murdered, Tanjiro Kamado goes on a quest to turn his sister back to human. He takes a vow to end the demon threat once and for all. 
This dark fantasy anime balances Tanjiro's positive attitude and kindness with the horror of fighting demons. 
There's also plenty of playful comedy whenever the show's cast enjoy a moment of rest. 
Blue Exorcist: Kyoto Saga ( Ao no Exorcist )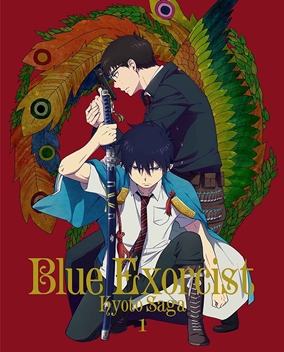 Blue Exorcist is a dark fantasy anime looking into a few common questions – is everything simply predestined or do we choose our own fate? And what does it really mean to be alive? Rin's character development is fascinating. Additionally, all the characters in the show get their own problems to deal with, including insecurities and the death of loved ones. 
Gehenna, the realm of demons, and Assiah, the realm of humans. Typically, these two dimensions would never cross, but after possessing all material things, the demons are now invading the material world. 
Charcoal Feather Federation ( Haibane Renmei )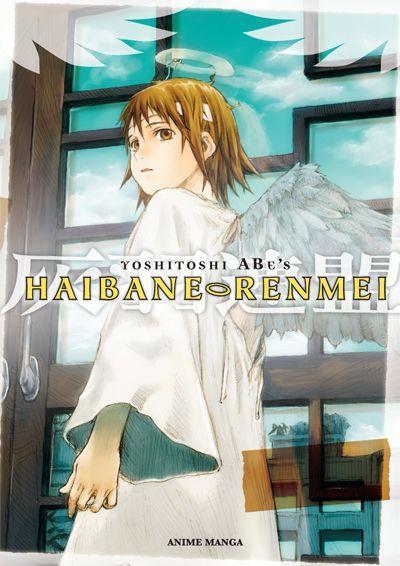 Audiences love dark fantasy anime because it portrays an in-depth psychological exploration of its characters – and Charcoal Feather Federation has that in spades. 
The show tells the story of Rakka, a girl born from a cocoon in an absurd town with no memory of her past. The other "Haibane" takes care of her. Haibanes are winged beings born from cocoons, and it is necessary for them to live through misery before they can "take flight". However, nobody really knows what happens after that. 
The city of Gile and the world of Old Home is sometimes depressing and dark. But the anime carries a message of rebirth at its core.
Puella Magi Madoka Magica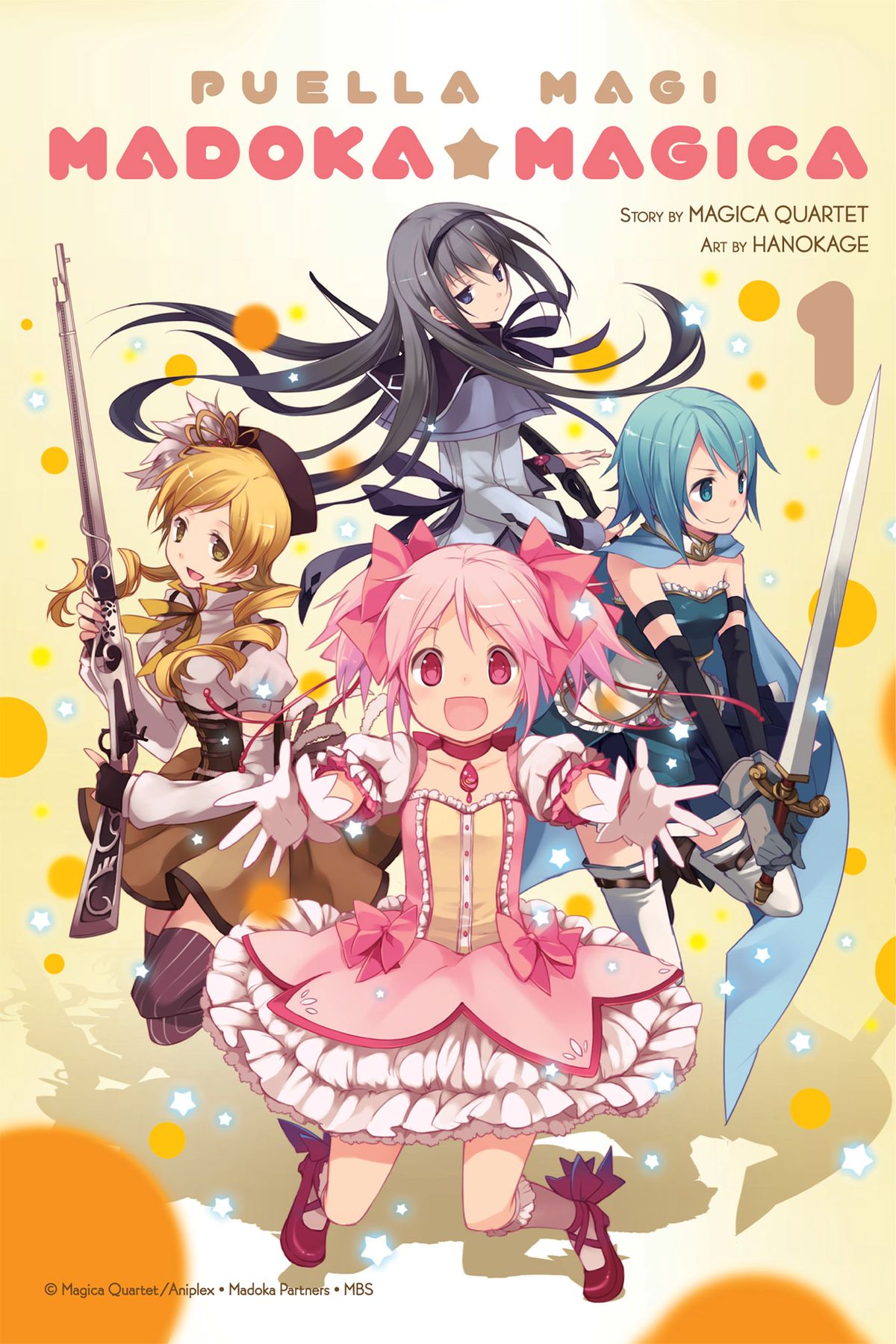 When someone hears the term "magical girl", people imagine a cheerful and bright team of justice fighters like the girls in The Powerpuff Girls. 
But that is going to change thanks to dark fantasy anime like Puella Magi Madoka Magica. This serious take on the magical girl genre is misleading at first. 
A creature called Kyubey offers Sayaka and Madoka a wish if they agree to become 'magical girls' and fight strange beings called 'witches. Although a magical girl, Homura is, for unknown reasons, trying to stop this agreement. 
 Land of the Lustrous ( Houseki no Kuni )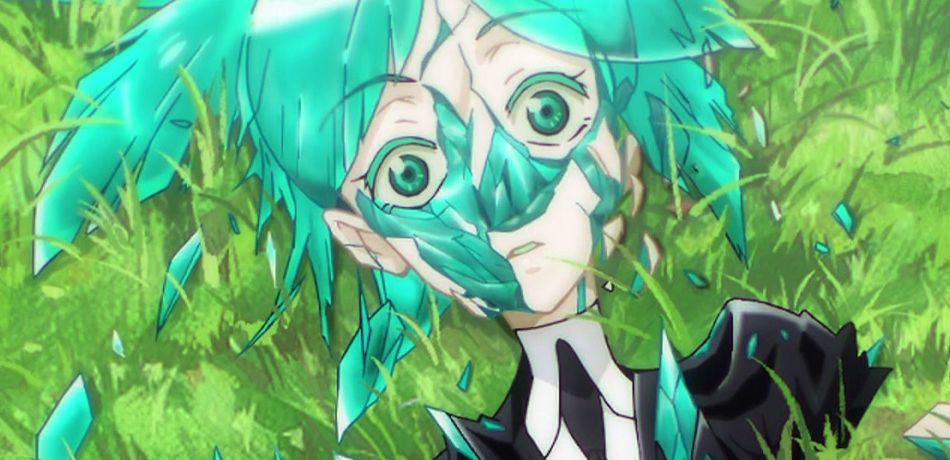 Land of the Lustrous is set in an era where strange beings (Gems) are struggling for their lives. Their enemies are the "Moon People". Each Gem has a unique purpose to fulfil. Phosphophyllite has a job to document an encyclopedia for the Gems. However she starts out thinking the job will be rather simple, she soon learns that it will be more intense. 
The Gems stays in the dark about life outside the castle, including humanity. They do not show too much emotion and have no concept of death. Although, as Phosphophyllite learns more about the reality of the world, the Gems will change forever.  
Ajin ( Ajin: Demi-Human )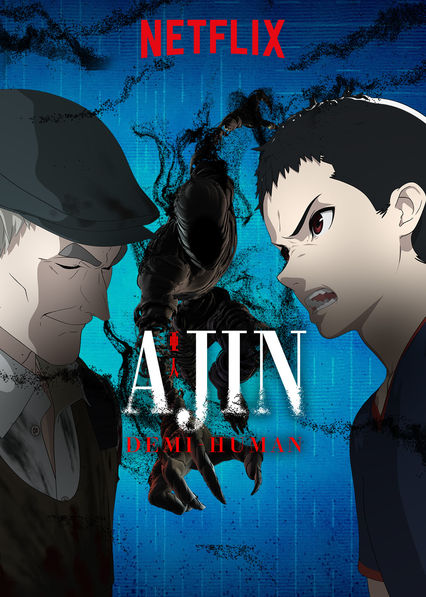 The immortal creatures, "Ajin" first appeared in Africa almost 20 years ago. Since then, they've been kept and oppressed in confinement for fear of their power. 
Following a near-death experience, a high school student Kei Nagai is discovered to be an Ajin. He's constantly on the run and eventually becomes the demon society expects him to be in order to survive. 
Ajin is a dark fantasy anime that shows the darkest parts of humanity, especially through the eyes of its villains. This show is full of unexpected plot twists which address themes in a very unique way.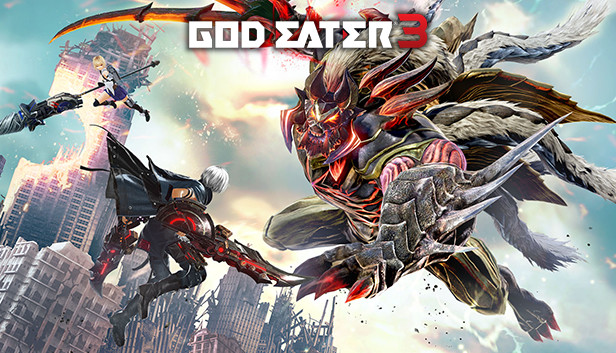 When the man-eating creatures known as Aragami appeared, humanity was pushed into a fight for survival. Humans then formed a special organization, "Fenrir" as normal weapons didn't seem to have any effect on the monsters. This combat group is important as they use a special type of weapon. The weapons are infamously known as "God Eaters," and can only be used by humans injected with Oracle Cells. 
God Eater is very similar to other dark fantasy anime, given its apocalyptic setting. The storyline is very interesting, bringing deep conversations and some good action to its rather short stint.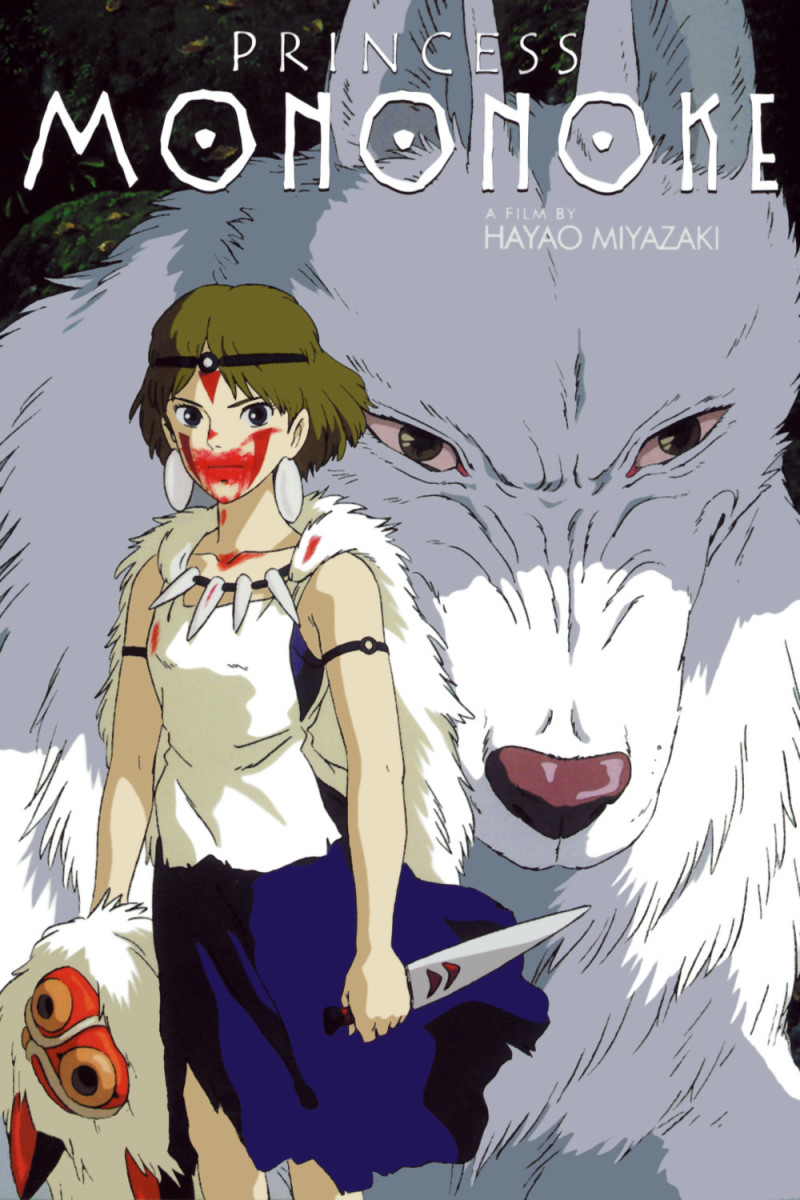 This spin-off of Ayakashi: Samurai Horror Tales is just like a murder mystery novel – only the culprit is always an evil spirit. Mononoke tells the tale of a medicine seller travelling in early Edo-period Japan. 
In his adventures, he encounters Mononoke – the evil spirits from Japanese mythology that tie themselves to negative emotions and feed off the humans. 
The only way to stop these creatures is to find out their Truth, Form and Reason for existing. It's only through understanding spirits that the main character can calm the storm.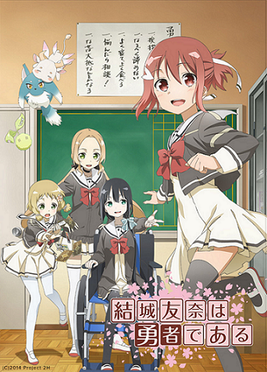 In the 400th year of the Era of the Gods, the mysterious creatures (Vertex) which appeared from thin air threaten to eliminate humanity. Now, only a heroic sacrifice can put a stop to them. 
Yuki Yuna is a Hero is a dark take on the magical girl genre exploring the consequences and the human cost of war. In our world, we value self-sacrifice for the greater good – however when is it too much? 
The Hero Club students are all adorable – full of dreams, hopes, and the desire to help others. The emotional relationship built during the first half of the series only makes their fall into distress all the more touching.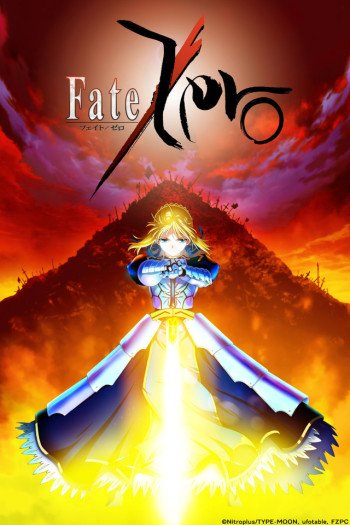 The spin-off Fate/Unlimited Blade Works and the original Fate/Stay Night both feature a good amount of darkness. And the prequel takes it to another level. 
The magicians fighting in the Fourth Holy Grail War are only a cut above in terms of skill. In Fate's world, that typically means they're even more morally grey. They'll betray their closest friends, sacrifice children, and even summon Eldritch horrors if it means getting their hands on the holy grail. 
Along with these interesting characters, you're in for some incredible action and battle scenes. I mean, which other dark fantasy anime features a dogfight between a possessed magic fighter jet and an ancient Sumerian flying throne?
You may also like our article on The Best Netflix Original Anime Series to watch. Click here to read.