It's a challenge to make a kid eat healthily. This post has valuable tips for new and experienced parents, including baby formula choice, a baby feeding chart, and more.
First Healthy Baby Food
A mother bears a child, and her organism produces the best milk for it, full of all the required nutrients. If a mother cannot breastfeed, it will be necessary to search for a decent alternative. Some baby food manufacturers add harmful components to baby formula. So, parents should be attentive when selecting the first food for their infants. How to choose a healthy baby formula?
Pay attention to labels. They must say "organic" and "no GMO."

The main ingredient must be the source of protein. It can be goat's, cow's, or vegan milk.

You should not find flavors, synthetic stabilizers, or thickeners on the ingredient list.

The best baby food type is organic.

The chosen formula must suit a baby's age. European companies create different stages with different amounts of macronutrients and micronutrients. For example, HiPP produces a variety of baby formulas that can be:

goat or cow

stages Pre (0+), 1 (1 – 6 months), 2 (6-10 months), 3 (10-12 months), 1+ (from 12 months), 2+ (24 months)

anti-reflux, comfort, and hypoallergenic

The manufacturer must be reputable. The best option is to search for reviews from clients, both positive and negative, to ensure its safety and quality.
A pediatrician should advise what type of formula to choose to satisfy the needs of an infant and avoid allergic reactions and digestive problems. 
Healthy Baby Food Feeding Chart
Doctors strongly recommend avoiding overeating and using fruit, energy bars, or smoothies for snacks. There should be breaks between meals to let the stomach digest everything properly and get hungry before the next meal. That's why pediatricians have a developed baby feeding chart due to which a baby doesn't overload its digestive system. How to feed a child? 
Breastfeeding occurs when a baby needs it

2-3 oz of mixture every 3-4 hours for newborns

1-3 month babies need 4-5 oz every 4-6 hours

4-month infants need 4 oz of mixture

6-month-old babies need 7 oz of mixture plus 2 tablespoons of adult food

6+ month-old kids require 8 oz of baby food plus 2 tablespoons of adult food
It's essential to recognize the symptoms of a hungry and well-fed baby. Hungry infants open their mouths, move actively, and lick their lips and hands. A hungry baby "negatively" moves its head and keeps its mouth closed when you touch it with a nipple to manifest its reluctance to eat.
Family Meals
A family is the best example for a baby. It is better to cook meals that will fit the whole family. For example, it can be soup, cereal, or an omelet, but adults should salt and pepper the dish separately. Thanks to that, a baby won't feel discomfort or isolated when consuming a portion of an adult meal.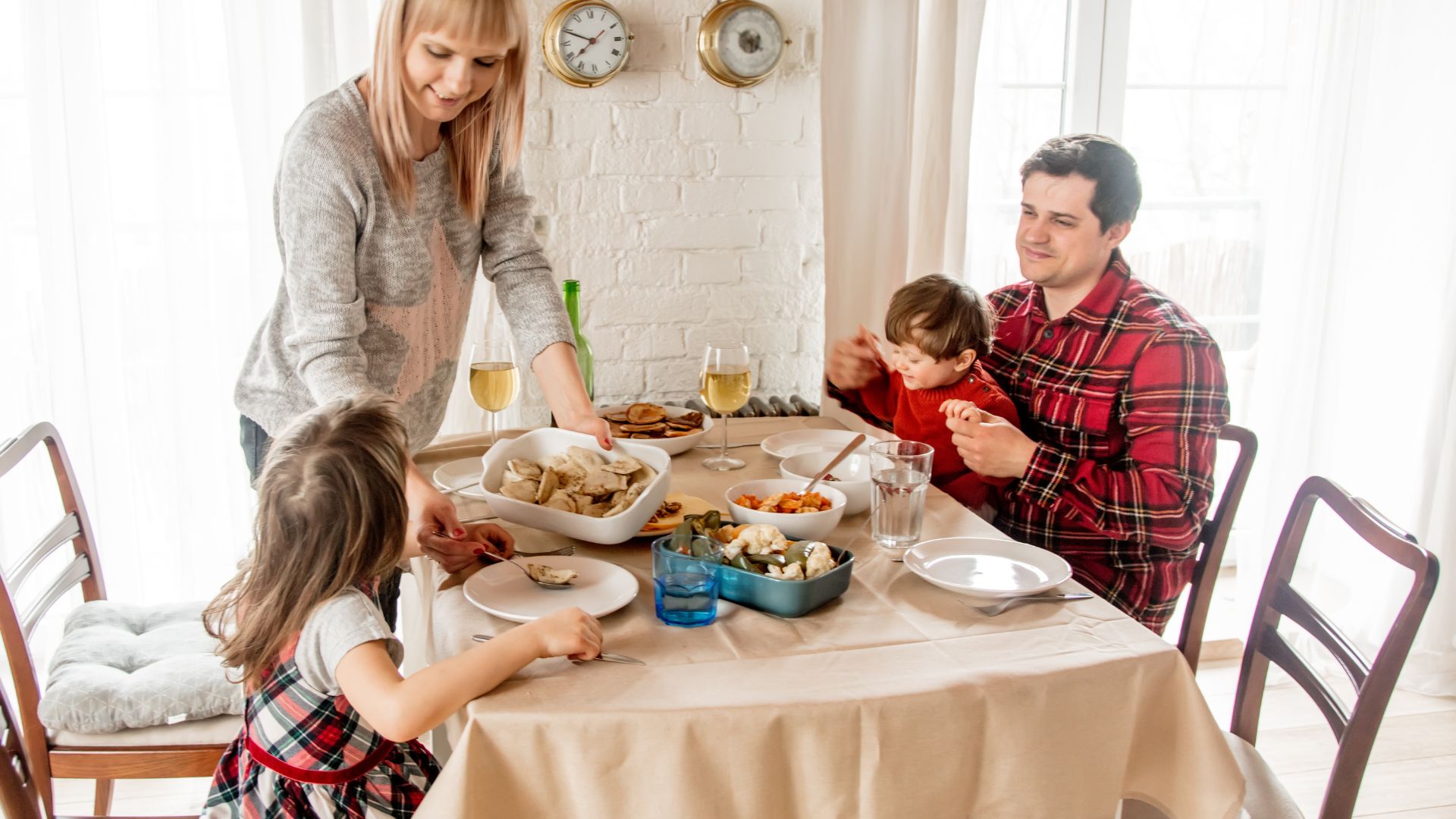 Make Each Plate Healthy Together
Nutritionists have created a scheme for a perfect food plate. Your child should be aware of this rule to get everything required so as not to constantly take supplements to restore vitamin insufficiency. A nourishing portion includes:
half a plate of vegetables, fruit, berries, or greenery

a quarter of a plate of protein sources (fish, meat, eggs, soybeans, legumes, etc.)

5% to 10% of a plate must be fats, meaning oils, seeds, nuts, egg yolk, or cheese

dairy may or may not be on a child's plate, depending on milk tolerance/intolerance
If a baby wants something sweet, you should choose sugar alternatives, such as honey, sweet fruit, or dried fruit. It is essential not to stick to traditional apples or bananas and tomatoes. The variety of foods lets a baby get all the required nutrients and select their favorite products independently. One shouldn't be afraid to add zucchini, carrots, pumpkins, potatoes, blueberries, and other products.
The Quality of Products is Significant
One should try to find top-quality products without GMOs, pesticides, antibiotics, and chemicals to avoid developing diseases, indigestion, and immune suppression. Moreover, only meat and fish must be well-processed to kill possible germs and bacteria. Other products can be raw or undercooked. For example, vegetables, berries, and fruit should better be undercooked or raw because heating destroys valuable vitamins and minerals. 
It's not a secret that fast food and semi-finished products have zero value for human organisms. Manufacturers add too many synthetic preservatives, flavors, and low-quality ingredients because nobody can see what a sausage or a cutlet in a hamburger contains. The main thing is to tickle tongue receptors and make customers add such products to their shopping lists. That's why homemade food is the healthiest and safest for the whole family.
Do Shopping and Cooking Together
A baby should develop a habit of buying healthy food from childhood. They should go shopping with their parents to get used to purchasing dairy without sugar, fresh vegetables,  fruit rich in vitamins, and good-quality meat and fish. Your shopping lists must include water because it is vital to stay hydrated. Juices and cola contain too much sugar, so they are not an option. 
NOTE! If your child can read, ask your child to read the labels on packages. Get them acquainted with the names of the most harmful additives, such as:
monosodium glutamate

sodium nitrite

synthetic coloring

guar and xanthan gum

artificial sweeteners and flavoring

corn syrup

sodium benzoate

carrageenan

trans fats
Another good tip is to involve a kid in cooking. Together, you can create something healthy and good-looking, like an apple owl, a carrot rabbit, or an omelet heart.
High-mood Atmosphere During Meals Is Vital
A kid should not associate food with punishments, rewards, or low moods. Food is the source of macronutrients and micronutrients, so one shouldn't regard it as the best relaxant or mood enhancer. Nevertheless, parents know how hard it is to make a child eat healthily and regularly. So, they should do their best to promise a pleasant atmosphere at lunch and dinner time because happy children have a better appetite. 
Healthy vs. Less Healthy Tips
These are some more tips to follow.
set a water-drinking alarm to teach a kid to drink regularly;

a whole apple is better than apple puree, which is healthier than apple juice;

boiled and baked food is better than fried;

prefer cereal and noodles that must be cooked than instant alternatives.
In other words, you should spend enough effort and time establishing healthy eating habits in a child, though the main rule is to love your kids and pay attention to their desires. When you listen to your children, they will listen to you and do their best to please you and eat healthily.