"Your best shirt should be like your bed; it just feels like you are home when you are in it," says Ashton Kutcher. So when they say that men don't need a whole lot when it comes to clothing, it's true. For them, a shirt and a pair of pants are more than enough. Several different brands manufacture quality shirts in modern times, but you need to learn about the top shirt brands in India.
The proper trim, the straight cuts, and the suitable fabric go a long way in making your shirt premium and alive. But, of course, your appearance depends mainly on what type of clothes you wear. Casual shirts with jeans give a fashionable look for parties, and formal shirts and a jacket and tie prepare a gentleman for formal functions.
You can buy shirts from anywhere: roadside stalls, sidewalks or cheap stores, but there is a huge difference between a branded shirt and a roadside shirt. Branded shirts are far more superior in quality and the material used when compared to roadside stalls. In addition, these shirts are more durable, comfortable and tastefully crafted.
So to help you choose the finest shirt for your wardrobe, we made a list of the top 10 best shirt brands for men in India.
Top 10 Best Shirt Brands for Men in India 
1. H&M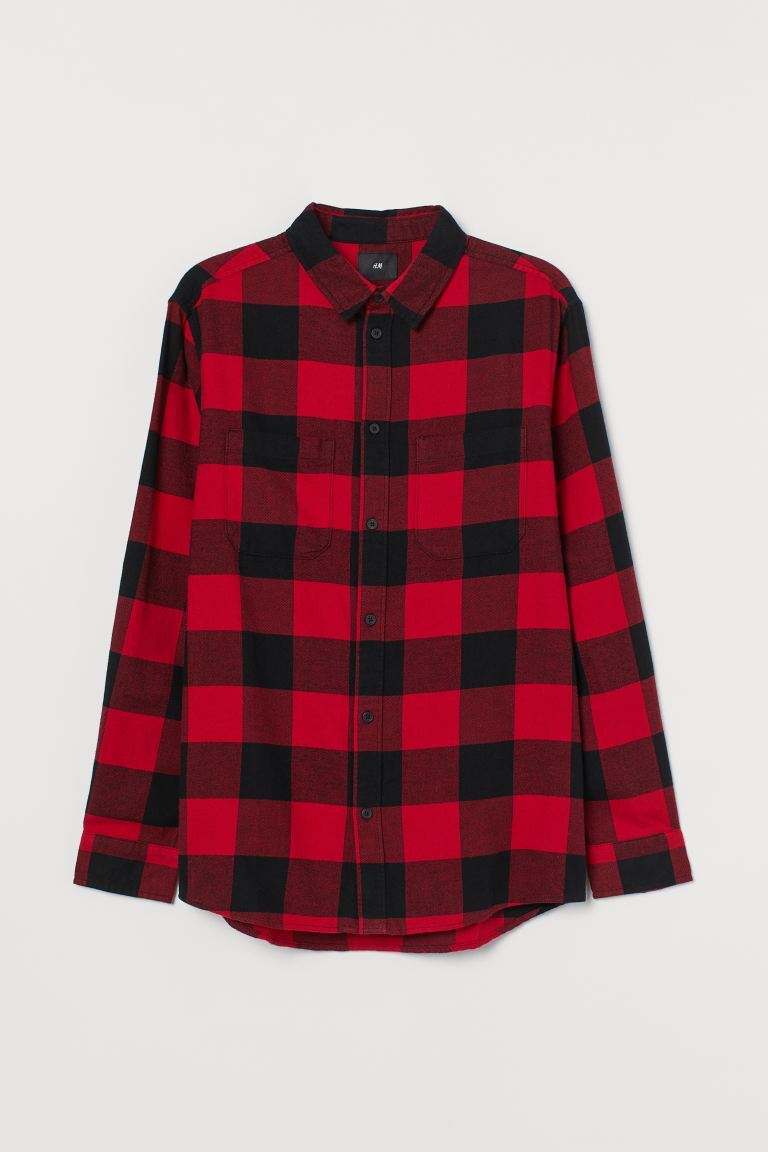 H&M is an international clothing retail brand popular for its fast-fashion clothing for teenagers, children, men and women. The brand offers quality and fashionable clothing at the best price in a sustainable way. H&M is available in 74 countries with more than 5,000 stores under several company brands. It is the second-largest clothing retailer in the world, behind the Spanish company Inditex. Helena Helmersson and Stefan Persson (son of Erling Persson – the founder of H&M) run the company.
H&M shirts, in general, are more expensive than several other regular brands. The price range starts from Rs.799 and ends at Rs. 4,499, but don't let that stop you. H&M's clothes provide total value for your money. The company is built on solid foundations. "Quality and fashion at the best price" is the company's motto, and they take it very seriously.
Features
Lyocell and cotton weave with resort collars
French chest and front pocket
Super comfortable 
Tailored silhouette
Stain-free
2. Raymond Group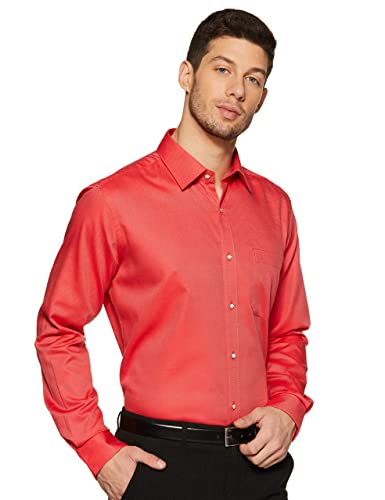 It is one of the top shirt brands in India. Raymond Group is an Indian fashion and branded fabric retailer. It manufactures suiting fabric. The group owns clothing brands like Raymond, Park Avenue Woman, Park Avenue, Raymond Premium Apparel, Kamasutra & Parx. And ColorPlus. Raymond's headquarters is situated in Mumbai, India.
The brand's B2C Shirting fabrics business launched in 2014 has grown increasingly over the past two years. It is the largest OTC branded fabric player in the world. Raymond Group is one of the Top 3 leading companies in the menswear industry with a strong combination of four power brands.
The group's shirts are made with a high stretch fabric. It's another innovation from the world's smartest fabric, Technosmart. Raymond Supima, the new benchmark for cotton t-shirt and shirts. Made from the famous American Supima cotton, they offer a soft touch and a strength of character.
Raymond enjoys a high consumer acceptance and recalls as a result of enduring brand product quality.
Features
Price: 799 – 2,999
Size available: 38 – 48
Fit type: Loose, regular, slim, skinny
Uses 96% cotton and 4% spandex
B2C shirting
Best American Supima Cotton
High stretch fabric 
3. Arrow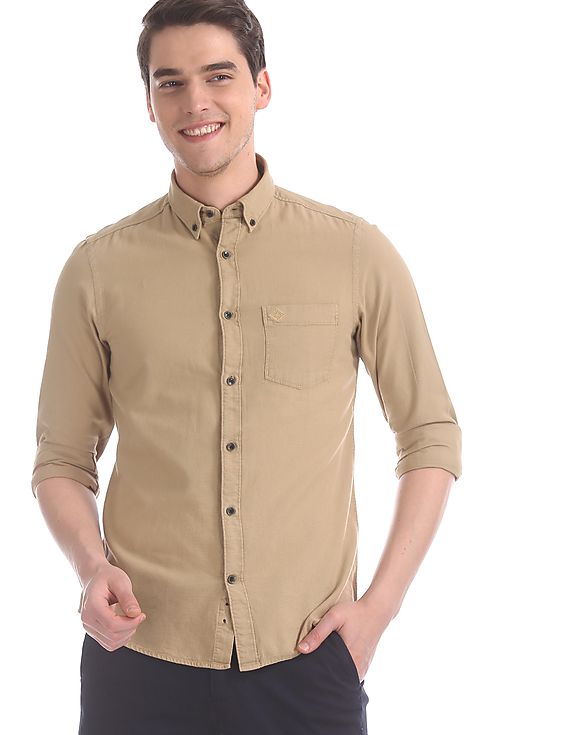 Arrow is one of the top shirt brands for men in India. It is an American clothing brand. Phillips-Van Heusen Corporation (PVH Corp.) owns Arrow and also owns brands like Olga, Tommy Hilfiger, Van Heusen, True & Co., IZOD, Geoffrey Beene and Calvin Klein. PVH also licenses brands such as Michael Kors and Kenneth Cole New York.
In 2018 Arrow was crowned as the "Most Trusted Brand in India" by Trust Research Advisory's Brand Trust Report. The brand's formalwear has surpassed Levi's casualwear and Raymond's fabrics to secure the top spot in the latest TRA rankings.
Arrow has more than 250 exclusive brand stores and 500+ shop-in-shop counters in India; in addition, the brand caters to a vast, growing and loyal customer base. The brand made several innovations in men's clothing, such as introducing the detachable collar, the adjustable waistbands in trousers. And it is the first company to launch stain-free, wrinkle-free concepts in apparel.
Over the years, Arrow has expanded itself in various categories. There are now three categories:
Shirts for younger professionals under Arrow New York
Classic shirts under Arrow Mainline
Arrow sport for post-work wear
Features
Price: 1,099 – 2,599
Fit Types: Regular, slim, skinny and baggy
Size Range: 36 – 48
These are made mainly in Bangladesh
4. Peter England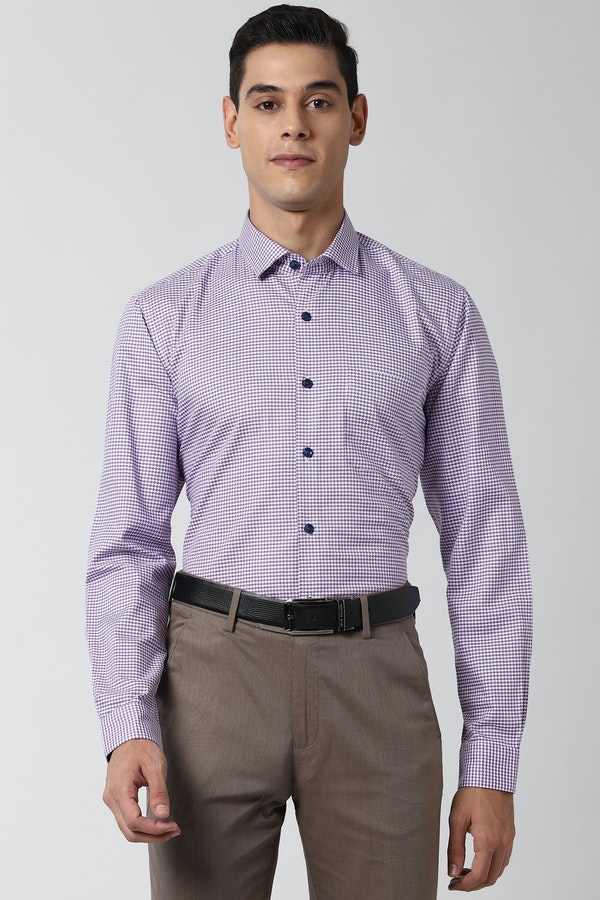 Madura Fashion & Lifestyle- a subsidiary of Aditya Birla Group- owns the Peter England brand. The brand went on to become one of the top shirt brands in India. It was also the first mid-range menswear brand in India. Peter England was listed in the top 5 most popular brands in the apparel category for six consecutive years. Keeping in sync with the youth, this brand offers apparel that serves every step in a young man's life.
With a strong belief in authenticity, Peter England has become the most reliable and trusted international brand. Ayushman Khurana is the brand ambassador for Peter England. The brand offers contemporary workwear that is bright, breezy, and all sunshine. As a matter of fact, the brand's tagline is "Beginning of Good Things", which is similar to the feeling its clothing arouse.
Vibrant colours, trimmed fits, and sharp collars are all the things that differentiate this India-based brand from its competitors. It basically focuses on the corporate and working-class sectors. But, currently, they are focusing more on the general class or mass class because they have started a great collection of casual and daily wears.
Features
Size range: 39 – 46
Price range: 700 – 1900
Uses cotton, linen, rayon, silk etc.
Wrinkle-free technology
5. United Colors of Benetton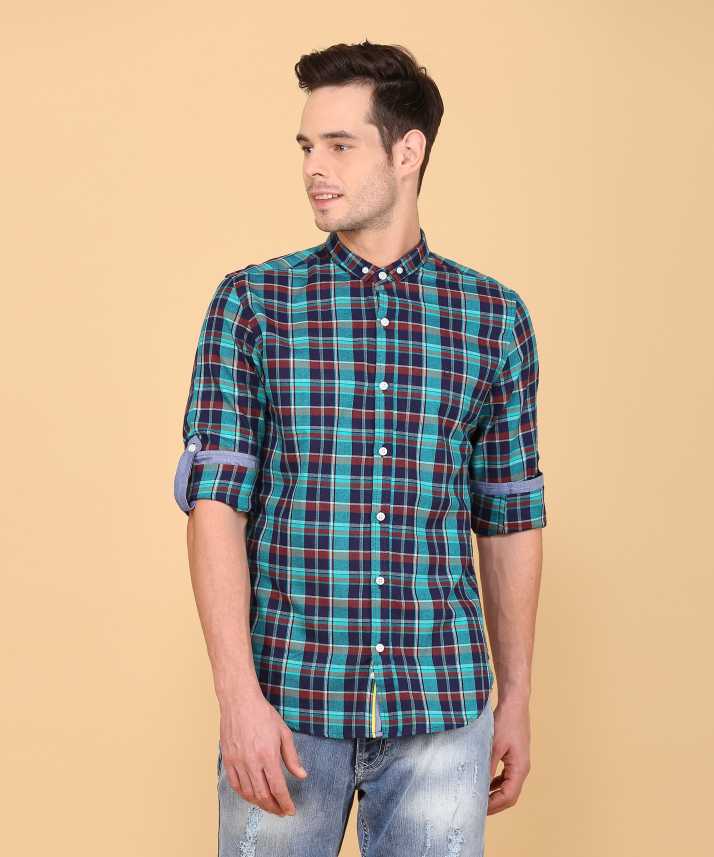 United Colors of Benetton is a global fashion brand based in Ponzano Veneto, Italy, since 1965. The company has a network of about 5,500 stores worldwide. Benetton was an iconic brand in the early 1980s and late 1990s, but now it's struggling to regain this position. UCB company is one of the top shirt brands in India. Benetton is famous for its sports sponsorships and for its "United Colours" advertising project. The brand also entered Formula One as a sponsor of Alfa Romeo in 1984 and Tyrrell in 1983.
UCB is a clothing brand famous for its knitwear expertise, social commitment and colours. A blend of global research and Italian style, UCB has an exclusive range of shirts. They provide quality outfits in respect of the environment and intending to create a brighter future for humans.
Features
Lightweight clothes
Price: 899 – 4799
Fit type: Regular, skinny, slim, loose
99% cotton shirts
Size range: 38-46
6. Louis Philippe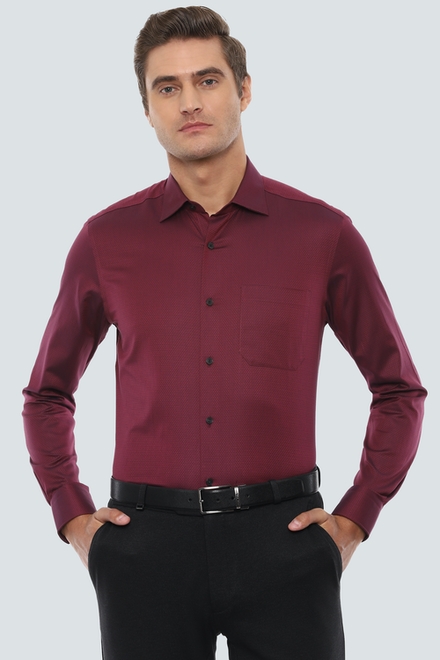 Louis Phillippe is a premium brand of men's clothing originating from India, and it grew to be one of the top shirt brands in India. It is a subsidiary of Madura Fashion & Lifestyle, which in turn is a branch of Aditya Birla Group. Louis Phillippe is named after King of the French from 1830 to 1848. Robert Pattinson is the brand ambassador of this company. LP is about premium wear clothing, including suits, sweaters, jackets, shirts, footwear, tees, and blazers.
The brand is especially noted for its fascinating designs, affordable price range and fabric quality. Louis Phillippe's brand portfolio consists of shirts that range from affordable and mass-market to high-end style, luxurious and cater to every age group, from men and women to children.
It has two subsidiaries – Luxury and LP Sport. Luxury is the latest edition of ultra-exclusive apparel which celebrates the best of craftsmanship.
Features
Size range: 36 – 48
Uses silk and soft cotton material
Fit type – regular, slim, skinny, loose
Price: 649 – 6899
Premium shirts
Made in India
7. Tommy Hilfiger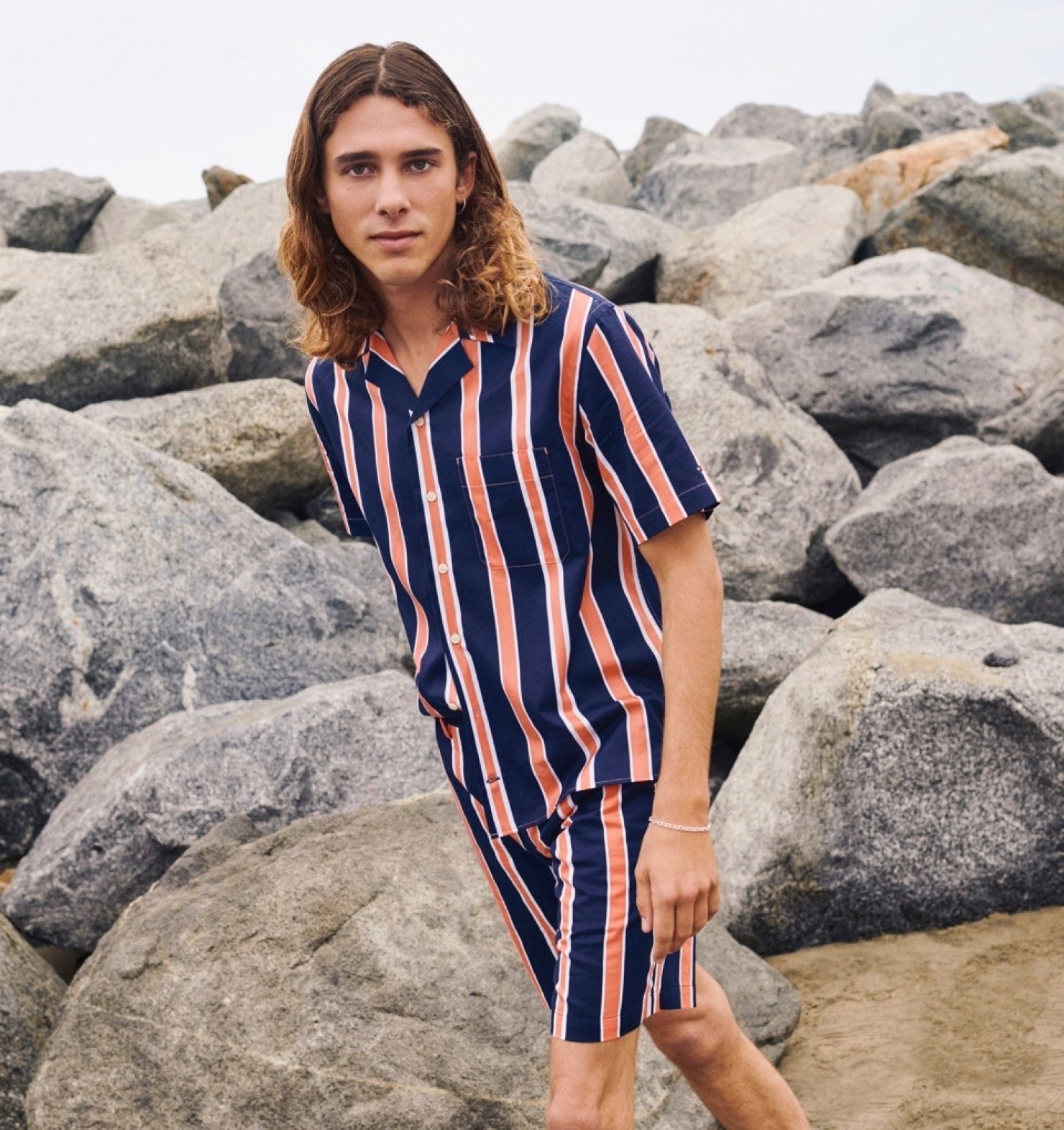 It is one of the top shirt brands for men in India. Tommy Hilfiger Corporation is an American premium clothing brand, footwear, fragrances, home furnishings and manufacturing apparel. The brand's merchandise is sold in chain stores and over 2000 retail stores in 100 countries. Apax Partners, a private equity firm, acquired the company for about $1.6 billion in 2006. Then in 2010, Phillips-Van Heusen bought the company.
It is one of the world's best designer lifestyle brands and is globally recognized for celebrating the spirit of classic American cool style. Tommy Hilfiger offers premium quality, styling and value to customers internationally under the Tommy Jeans and Tommy Hilfiger brands. In addition, with exclusive and extensive collections of shirts, such as the Hilfiger Collection, the brand delivers a complete value for money.
Additionally, the brand is licensed for a range of products, including eyewear, home furnishings, fragrances and watches. Tommy Hilfiger, the brand's founder, remains the company's Chief Designer and provides direction and leadership for the design process.
Features
Price: 1,400 – 5,300
Fit Type – Regular, slim, skinny, loose
Ultra-premium shirts
Uses 98% cotton and 2% elastane
8. Levi Strauss & Co.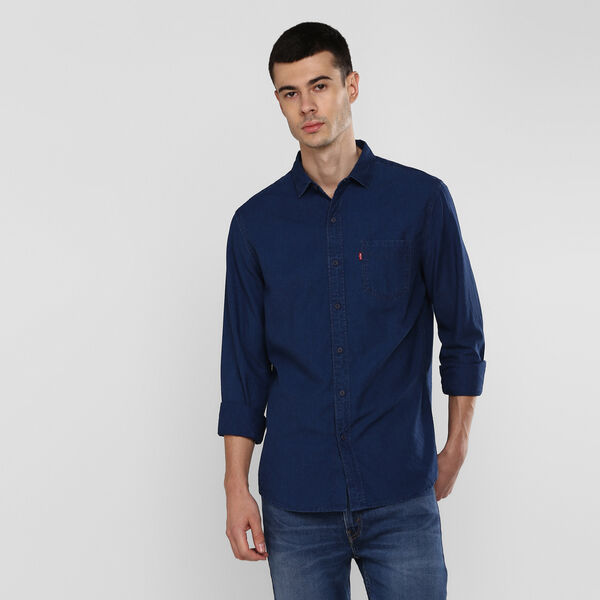 Levi's is an American clothing company and is one of the most recognized brands internationally. It is famous for its Levi's brand of denim jeans. In May 1853, a German immigrant Levi Strauss came to San Francisco, California, to open Levi Strauss & Co. The brand's corporate headquarters is located in Levi's Plaza in California.
Levi's is worn by people from all statures, from janitors to celebrities to Nobel Prize winners, from Al Pacino to Albert Einstein himself. Levi Strauss & Co. infamously made a leather jacket for Albert Einstein in the 1930s. Later, the jacket was sold at Christie's for $153,000.
The company uses various techniques to eliminate competitors from its way. Amongst other techniques, its garment labels and sewn pattern separate it from competitors products. Levi's has used its "accurate design" on the pockets of its shirts. In 1945, the company registered the design as a trademark at the USPTO.
Features
Price: 755 – 3,699
Fit Type: Slim, skinny, loose, regular
Innovative products
Stain and wrinkle-free fabrics
9. Cantabil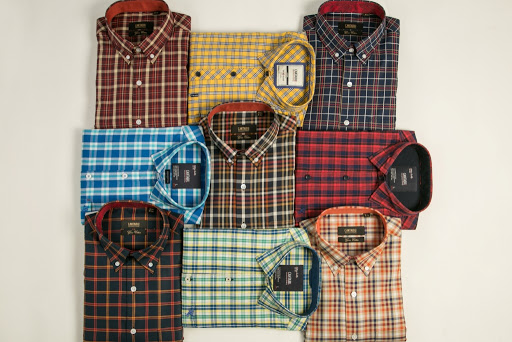 Cantabil Retail India Ltd. is in the business of manufacturing, retailing, branding and designing of apparels. It has emerged to be the top shirt brand in India. Cantabil has a workforce of more than 2,500 and a network of 320+ premium retail outlets spread across India. Their stores are located at malls and at premium locations of the major metro cities to ensure maximum footfalls.
The brand provides a complete range of party wear, formal wear & casual clothing for men, women and children. Cantabil has become a full family brand over the years and is also launching the women's wear segment in 2022.
The company has launched another brand, KANESTONE, in 2015. The latter cater's to men's segment in accessories like belts, caps, socks, handkerchief and undergarments etc.
Features
Price: 650 – 2,400
Fit types: Regular, loose, skinny, slim 
Made from 100% cotton
Premium brand
Made in India
10. Diesel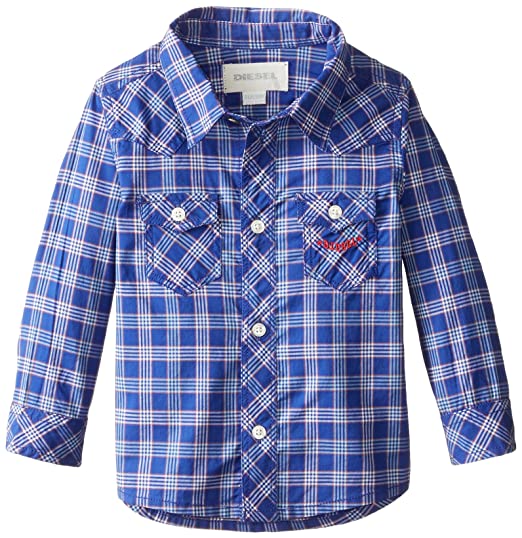 Diesel is an Italian retail clothing company and is one of the top shirt brands in India. The company headquarter is situated in Breganze, Italy. It sells denim jeans, shirts, jackets and footwear. The clothing line has two different brands: Diesel Black Gold and Diesel. Diesel Kid is their children's division. The company is famous for its surreal advertising campaigns, in addition, Diesel's luxury fragrance division is produced and owned by L'Oreal Paris.
"The Brand For Successful Living" is the slogan for the company's DNA. Through a long history of ironic, playful and strong campaigns, Diesel has become an innovator in advertising as well as in fashion. It is a notable brand with a unique mindset. The brand promises to entertain customers and introduce them to practical, new experiences.
Features
Price: 2,500 – 7,999
Fit type: regular, slim, skinny, loose
Super comfortable shirts
Anti-wrinkle fabric
Ultra-luxurious and premium brand
You may also enjoy our article on the 15 Best Earphones Made In India. Read it here.