Behold! The wedding season is here. It is an event of great significance for families all over the world. They give their best blessings to the new couple for embarking upon a new journey together. It is an event rife with joy, fun, and a magnitude of sentiments coming together. Families spare no expense to make this one event unforgettable. We can think of Indian weddings as one of the most extravagant events in India. With a market size of about $50 billion, the Indian wedding industry is the second largest wedding industry in the world. People spend a lot of money on the location, catering, pre-wedding and post-wedding events, etc. But the one place where people love to spend most is dresses, especially on the bridal lehengas.
The bride and the groom are the centers of attraction of the wedding. The wedding festivities make this event memorable. All eyes are on them, so they have to look their best. Wearing a designer bridal lehenga is every girl's dream. They go through hundreds of bridal lehenga designs to find that perfect one from their dreams. They have every right to do so because, after all, the day is about them. Everyone wants to look perfect at every function of the wedding, and the ideal lehenga design takes a huge step in that direction.
Here, you can take a look at the trending lehenga designs, including the bridal lehenga designs, to shortlist the style and color of lehenga of your choice.
Top 10 Lehenga Designs
1. Traditional Lehenga Choli
Weddings are about many things, but one thing that sticks out is traditions. Nothing talks about traditions and culture like a simple vermillion/red-colored Lehenga Choli. As red symbolizes love and passion, a simple traditional lehenga choli symbolizes the love that the bride shares with her groom. You can either get a plain red Lehenga Choli or get one with works like zari, gota patti, mirror work. You also get your choice of fabric – silk, net, velvet, etc. If you want to look elegant and graceful, you can never go wrong with a traditional lehenga choli because traditions are eternal.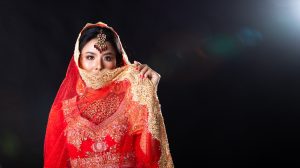 2. Double Dupatta
Dupattas are a big part of traditional women's clothing. So, naturally, it also finds its place in wedding dresses. Brides put a dupatta over their heads as a sign of respect to the elders and culture. But a designer, heavy dupatta is not an easy thing to carry on your head for an extended period. As beautiful as it looks, it can be troublesome for the bride. Here, a Double Dupatta lehenga can help a bride. As the name suggests, there are two dupattas; a heavy one with mesmerizing works for the front and a lighter and elegant one for the head. Brides can mix and match colors for a trendy look because it reflects their freedom.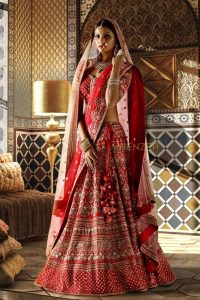 3. Long-Sleeved
This design is not new in wedding culture, but it is one of the most popular designs, even from older times. Traditional Lehenga Choli is royal in itself, but if you add the grace of a full-sleeve blouse, the outcome is nothing short of royalty. A full-sleeve blouse adds a certain grace and charm to the already lovely look of a bride. You can get it customized to as per your choice. You can add designs like silk embroidery, thread work, etc., to make your blouse look fashionable and regal. There is no limit to what design work you can get done on your blouse as per your choice for your wedding day.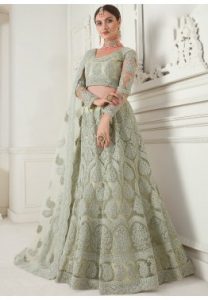 4. Pastel Colors
Wearing bold shades of red has ties with traditions. People prefer this shade because of what it symbolizes. But modern brides want to break free from this stereotype and wear colors that they like. Slowly but steadily, pastel colors are making their way into the bridal lehenga designs. New brides are adopting them as they see their favorite celebrities walking the aisle in these classy and gorgeous pastel colors. Pastel colors are not only soothing to the eye, but they also show the forward-thinking of girls. Girls can wear whatever they like, be it office, or the best day of their lives, their wedding.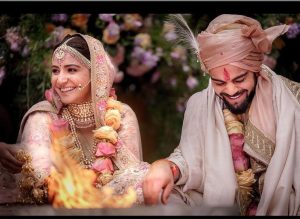 5. Lightweight Embroidery
The thing about heavy lehenga designs is that the brides cannot wear them more often. No doubt, they look gorgeous, and the bride looks like a princess in those designs. But when it comes to other events, there can be some limitations to heavy lehengas. Lightweight embroidery lehengas are now trending between soon-to-be-brides because of their functionality. These lehengas look classy with minimal design work, not too flashy. After the wedding, brides can still wear them to other events and functions. Wearing their dresses again is a dream come true for the women, and a lightweight lehenga design allows that.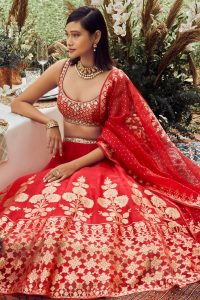 6. Color-Blocked Lehenga Design
This particular design was famous in the 1960s and 1980s but made a recent comeback. Color blocking means using more than one color to create an ensemble dress. It gives the designer more room to be creative, and the bride can also incorporate her favorite and complementing colors in the mix. Wearing different colors brings out the glow of the bride and gives a fresh perspective to the existing notions about what a bridal lehenga should look like. This lehenga design is a fresh and new take on an older but popular design.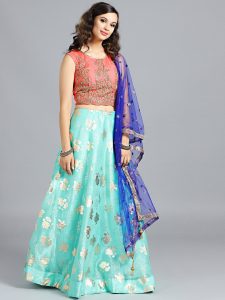 7. Bridal Capes
If you are looking for a lehenga design, why stop at pure Indian designs? Indo-western lehenga designs look just as fashionable and trendy. They are a fusion of the best of both worlds. This fusion is as pretty as it is clever. With a cape, you do not have to worry about pinning your dupatta to your dress or covering your head. It does all of these things and makes your dress a good combination of traditions and modernity. It can be of short length or long. The work on their border can also vary as per your choice. Also, it can act as your dupatta in times of need.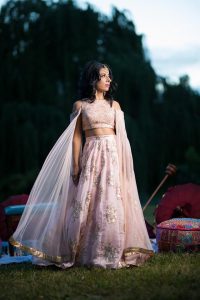 8. Organza Lehengas
Destination weddings are on the rise in India. To give a more exotic feel to the wedding, people are choosing beaches or forts for getting married. It makes the wedding event even more memorable for all the people. For outdoor weddings, organza lehengas are perfect. Organza is a type of fabric for making dresses. Not only is it lightweight, but it is also effortless to work on. It means that whatever design you have in your mind, you can see it materialized on the organza fabric. All the leading designers are now using this fabric to make their new lehenga design for brides and close ones.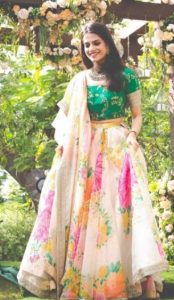 9. Off-Shoulder Blouse
As long as we are on the topic of Indo-western fusion, we cannot leave off-shoulder lehenga design. This new edgy design has all the rage in the bridal lehenga market. Be it the main event, sangeet, or mehendi, off-shoulder lehenga designs look good at all events. Not only it has an edgy look, but it also lets the bride explore and present her feminine side proudly. Moreover, It is their way of showing the world their freedom subtly and stylishly. After all, traditions and modernity can come together in charismatic clothing.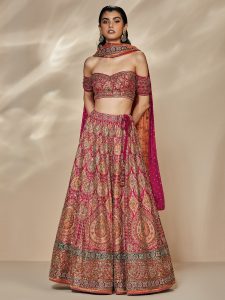 10. Blended Color Lehenga Design
India is a land of many cultures and different lifestyles, that is true. So why can this not be exhibited in the lehenga design of brides-to-be? Brides are now going for multiple colors instead of monotonous shades to make their lehengas more vibrant. It allows them to bring two different cultures in a single lehenga design. Moreover, the designer works on the lehenga can also be a blend. For example, mixing the shades of Rajasthani colors with Mughal designs can bring out the best of both worlds in a single lehenga design.
These are the latest lehenga designs that are all the rage in the wedding. All the leading fashion designers of the industry are using these designs for their future fashion creations. You can choose any of these designs and then proceed to have your ideas and plans designed on your choice of lehenga.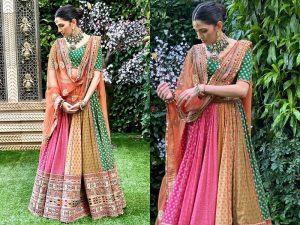 How to choose between Lehenga Designs?
Now you know the designs that are popular in the market. The question is how to choose your lehenga? What factors drive the selection of the perfect, dreamy lehenga design? It is not an easy task, but an enjoyable one. Soon-to-be-brides love to go through various colors and designs before choosing one design. Here is how they can choose the one and avoid making mistakes-
Body and Skin Type – Every girl is beautiful in her own way. To look gorgeous on the wedding day, a girl needs the perfect dress. Being aware of body type and skin color will help them choose the design and color that brings out their beauty in a visible manner. When the design and color compliment you, the outcome is just fascinating.
Jewelry – Perfect jewelry is as important as a perfect bridal dress. Jewelry that goes with your lehenga is vital to give you a complete angelic look. Some traditional lehengas look better with heavy jewelry sets, while some others look perfect with light designs. In the end, it all boils down to the compatibility of dress and jewelry.
Fabric – As royal as silk and velvet look, they are not suitable for a monsoon wedding. The same applies to many other fabrics. Choosing the correct cloth type according to the weather has more significance than people realize. Go for georgette or chiffon for a monsoon wedding. For a winter wedding, velvet or silk work best. The correct fabric keeps the bride comfortable and stylish. Fashion does not always have to cost comfort. They can go hand in hand.
Budget – It is understandable that being your wedding, you might want to spend a lot of money on your perfect dress. If it brings you happiness, do it! But set an upper limit to how much you want to spend on your clothes. Your ideal dress does not need to be overly expensive. You will look stupefying at your wedding as long as you wear what suits you, not what is costliest in the market.
Time – We get it. Planning a wedding takes a lot of time. But set some time aside for any alterations in the wedding dress. It helps the brides to have some time on their hands for any changes in the wedding lehenga. If your body size changes or you get an idea in your sleep that you want on your wedding dress, you need time. So keeping a few days gap between the wedding day and getting your lehenga ready is vital.
Trend – Fashion is a dynamic industry. There can be a trend today that will be old tomorrow. It is forever changing. So if you get your lehenga design that is trendy now, it can be out of fashion in few months. Choose a design that you think is evergreen. It will ensure that you can wear the lehenga to your best friend's wedding!
These were some of the leading designs and tips to choose them. You, as a bride, will look magnificent in anything that you want to wear and that suits you. Selecting from these latest lehenga designs is just a step in that direction.
Weddings are a once-in-a-lifetime event. The bride and groom are looking to start a new chapter in their lives, and they want to do it happily. If the dress is perfect, their happiness increases. So choose your clothes, your jewelry so that it brings out the beauty you have inside. But, most importantly, choose a partner who will keep that beauty intact with love and care for all the years you stay married, because love is eternal that lives beyond time and transcends this plane of existence.