The women of today's society are independent, free and also are considered equal to men and there is less to no differentiation between the two genders. Women have taken over the workplace with a great deal of enthusiasm and exhibit high-level leadership qualities. Here is an example of one such woman from a small town in Telangana who has emerged as a victorious leader and now we will be looking into the facts of this individual's life is Amrapali Kata.
Amrapali Kata is an IAS officer of the Telangana cadre. Additionally, she is the first woman IAS officer who got the position of the District Collector of Warangal Urban District, Telangana. The civil services officers' role is to serve the Central and State governments in implementing and administering the policies formulated by the central and state governments and also providing valuable feedback for any government decision-making process.
So, basically, an IAS officer assists the government in policy framing and administration, implementation of policies, and providing key feedback to the concerned ministries about the implementation status and impact of the policies.
Biography
Amrapali Kata was born on Thursday, 4 November 1982 in Visakhapatnam which is a state in Andhra Pradesh, India. She received her school education from an education centre named Sai Satya Mandir School, Visakhapatnam. For higher education, she cracked the IIT exam or the JEE Advanced exam which is the entrance exam for engineers and did her B.Tech from a college in Chennai. Thereafter, she enrolled herself at the Indian Institute of Management (IIM), Bangalore and achieved her MBA degree. Her zodiac sign is Scorpio meaning she is an alpha leader with a strong persistent personality, of very much holding especially in the IAS officer sector.
Also, know about the fellow IAS office Gaurav Agarwal, here.
Education 
Amrapali Kata cracked the UPSC exam in 2010 and obtained the 39th rank. She was the youngest of all the at time candidates to crack the exam. She got the position of the Sub-collector of Vikarabad, Telangana in 2013. Later, she served as the Director of the Women and Child Welfare Department in 2014. Thereafter, she was placed as the Joint Collector of Ranga Reddy District, Telangana in 2015. In 2016, she served as the District Collector of Warangal Urban District, Telangana.
Many times the local officers, servants and the government appreciates her achievements. She has been working opposing the common problems in the society and being a guard to the poor and less fortunate; inadequate sanitation, poor hygiene, unsafe water, etc are many of the problems she has fought against. To make people alert of it, she also distributed the book titled "Economics of Sanitation.
She became extremely popular among the youth during this time, due to her hard work and passion, and gained quite a following. She is uses the technology to enhance the results, She has also started a project called beautification of Warangal district, in this project, the aim to add visual appeal to the place and make it more beautiful.
A number of artists joined together for this project and made the city beautiful and colorful. "She has also served as a private secretary to the Union Minister of State in the Ministry of Home Affairs, G. Kishan Reddy. Her work has been remarkable from looking into issues of encroaching of assigning lands. She works immensely for the betterment of society. This inspirational young personality is popular because of her hard work and passion.
Family 
Amrapali Kata was born and raised into a staunch Hindu Family. Her Father's name is Kata Venkat Reddy. He was a professor at the esteemed Andhra University. Amrapali Kata Husband's name is Sameera Sharma. He is the SP officer of Daman and Diu. Kata has one sister and a Brother. Details about her siblings are not available.
Other Life details 
Amrapali Kata's house is located in Hyderabad. Amrapali Kata (IAS) has a Net Worth around 1.5 to 2.5 lakh INR. She is all a source of income including Job and Other. She lives life in Hyderabad and a standard and amazing lifestyle. Amru has a huge car collection. Check out the list of the cars of Amrapali, which includes Honda City and Innova.
Inspirational Figure
She is an inspirational figure who can motivate millions to achieve their goals. She is an IAS officer not for salary or status but to make a positive impact in society. Amrapali IAS is also an inspiration to many young Indian women, She conveys the message that women are no lesser than men and can be leaders in any area of life that they choose and put their minds to. She is an example of a fearless leader and is one that many women look forward to becoming someday.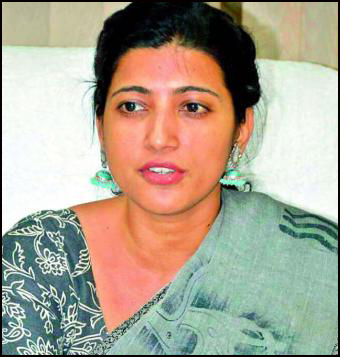 Outstanding service
IAS Amrapali has suspended a few officers due to which every subordinate working under her strictly follows her rules and commands. Her visionary leadership qualities and absolute integrity has made her commendable at her job. Amrapali has given numerous speeches in colleges such as in SREC College of Engineering, Warangal, where she shared her experience of becoming an IAS officer and explained about various obstacles faced by women in any industry across the country.
She is uses technology at its most wherever necessary. Her multitasking skill is that she can type a message without seeing the mobile while talking to the officers or media. She had taken up a program for Save Water which was an example to be emulated by all. The beautification of the Warangal District is another thing to be appreciated. Beautification is the process of making visual improvements to a place. She has contacted professional artists for the beautification of the city.
Beautification of the city was done by painting illustrious images on government office walls and flyovers in the city. As considerate and warm-hearted as she is, Amrapali rewarded the artists with the Bahubali-2 movie tickets which she bought by herself. The artists worked very hard to make the city colourful and presented beautifully.
Controversy surrounding Amrapali Kata
She had also purchased Bahubali 2 tickets and booked the whole theatre. This was to reward all the participants of the Nagara Sundarikarana program. Implementation for the beautification of the city. This was her controversial share.
Some facts about Amrapali Kata
She is also a Young Dynamic Officer. Her salary is 70K per month. Additionally, she is a writer and an art connoisseur too. She is a yoga lover. "Amrapali Kata" had distributed tablet PC's to Village Revenue Officers. She participates in blood donation camps. She is close to her family and especially her father. Her all India rank was 39 in the UPSC exam and she is the youngest candidate to crack it. She doesn't like using social media hence her Facebook and Instagram account is not available.