What does Waheguru mean?
Waheguru is a Punjabi word used in Sikhism to refer to God as described in Guru Granth Sahib. The word Waheguru is divided into two parts, one is "vah" which means wondrous and the other word is "guru" which means teacher, spiritual guide, God. Together this word means "Wondrous Lord".  This word implies wonder at the divine light which eliminates the darkness. The two constitutions of Waheguru(Wahe+Guru) imply the state of wondrous ecstasy and offering homage to God. Waheguru in other words means Primary Mantra or the Gurumantra. It is a reference to the Almighty God; the Creator of this Universe; the Supreme soul; etc. This article will highlight Top 50 Waheguru ji quotes & Status.
Origin of the word Waheguru
In Sikh scripture, famously known as the Guru Granth Sahib, the term Waheguru is not composed in the praise of Sikh Gurus, though at some places it does mention them. Guru Gobind Singh used Waheguru in his inventory formula– Ek Ongkaar Sri Waheguru Ji ki Fateh, besides his traditional mention, that is, IK Ongkaar Satguru Prasaad at the beginning of his compositions as well as some of the Sikh salutations. 
Top 50 Waheguru Ji quotes & Status
Following Waheguru Ji's quotes can help people achieve peace and happiness. Total submission to one's Lord makes our life beautiful and prosperous. 
Waheguru Ji's quotes for blessings
Keep praying to Waheguru, don't think that he isn't listening. He will answer your prayers on time. You have to be patient to receive his blessings. 

Waheguru Ji always stays with everyone, in their thick and thin. People have faith in him and run to him during their problems. When no one will stand beside you, Waheguru will always give his blessings over you. 

When you kneel in front of Guru Sahib, he takes a stand for you and protects you. He gives you his blessings so that you can go forward in your life. He will guide you in every path. 

Pray to Waheguru to bless your homes and the people living in them. He will keep your people protected and safeguard their life. He will make sure that you won't face any obstacles that come in your path. 

If there's a problem in your plan, consider it as Waheguru's protection. His blessings will save you from any type of harm. If he's preventing you from certain things, consider this as his protection. 
Waheguru Ji quotes on life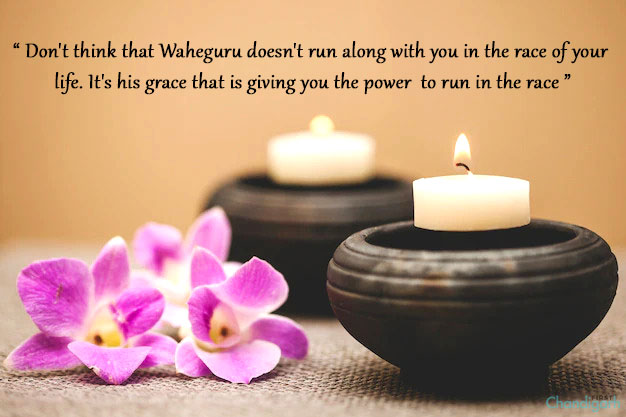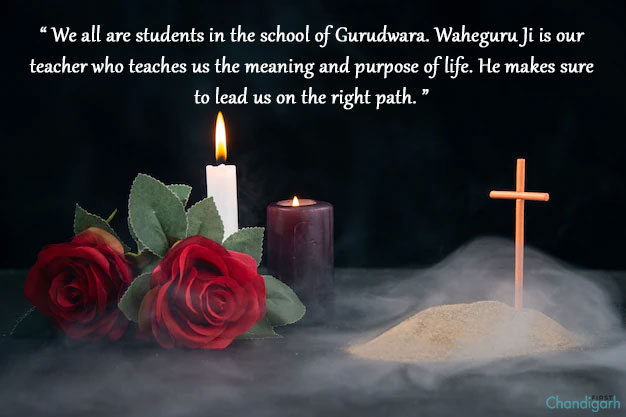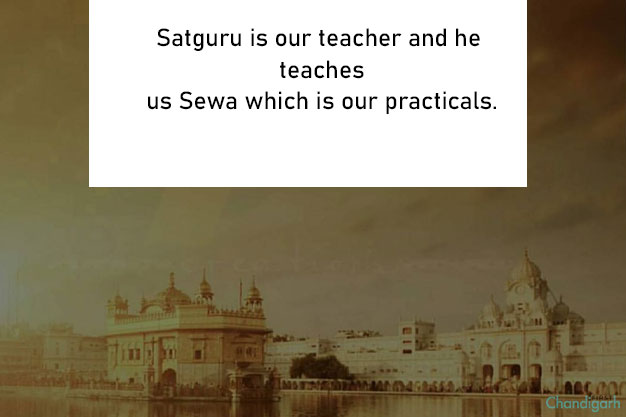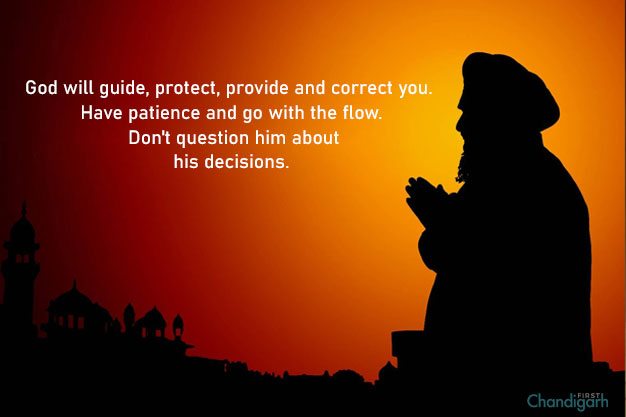 In Punjabi, "Gurudwara Sahib" means "Sukoon". This sounds so beautiful and peaceful at the same time. 

Don't think that Waheguru doesn't run along with you in the race of your life. It's his grace that is giving you the power to run in the race. 

Satsang is our class and classmates.

We all are students in the school of Gurudwara. Waheguru Ji is our teacher who teaches us the meaning and purpose of life. He makes sure to lead us on the right path. 

Satguru is our teacher and he teaches us Sewa which is our practicals.

We live in a temporary world as temporary people, yet still, we crave to love forever. We don't know when our chapter will come to an end, yet still, people are filled with hatred, jealousy, cruelty and many more things.

God will guide, protect, provide and correct you. Have patience and go with the flow. Don't question him about his decisions. 

No doubt this world is bad and selfish, but you remain kind and true to everyone and leave everything to God. He notices all your good deeds and will surely help you in your life battles as well.

Sabr(patience) will take you to beautiful places. Being patient in life will help you reach heights. God knows what you need at what point in time and he makes his plan according to that. 

Waheguru is working on your life, have patience and wait for the outcome. He works in mysterious ways. Questioning or doubting his works will lead you to nowhere. You should trust his decisions and believe that he knows the best for you. 

Keep your faith in God intact even if you are struggling in your life. He knows that you're struggling, but it's only for your betterment. You don't need to doubt that he won't help you in your difficult times. 
Waheguru Ji quotes on positivity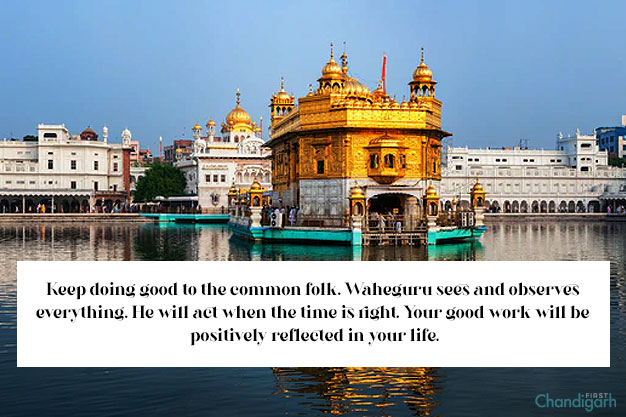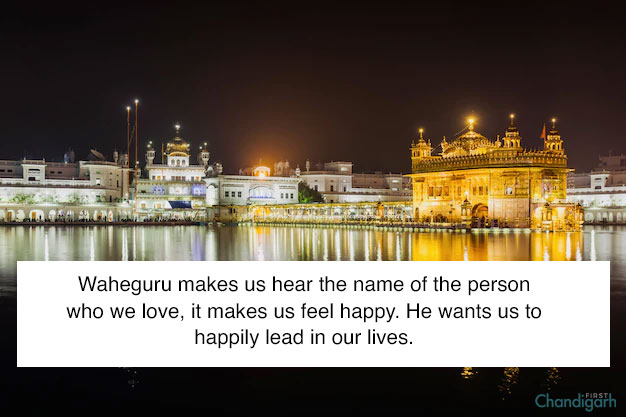 Keep doing good to the common folk. Waheguru sees and observes everything. He will act when the time is right. Your good work will be positively reflected in your life. 

Everything happens for a reason. You might not understand why you went through all those sufferings but eventually, Waheguru will reveal everything. Don't blame Waheguru for not saving you from your demons, he wanted you to fight with them. 

Go with the flow, your story will be guided by God. He will show you the right directions and help you make the right decisions to succeed in your life. 

You can only accept your past, but can't edit, erase, rephrase or replace. You can bury it deep down in your memories but can't let it out of your life completely. Forgetting the past and moving on is the best option in this scenario. God has better plans for you. 

The world sees only what you do and gives judgments on the basis of that but Waheguru understands the reason for your doings and shows you the right path to correct yourself. 

Waheguru makes us hear the name of the person who we love, it makes us feel happy. He wants us to happily lead in our lives. 
Waheguru Ji quotes on Ardass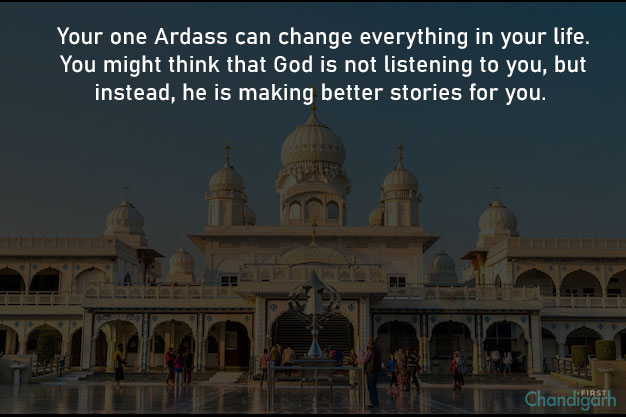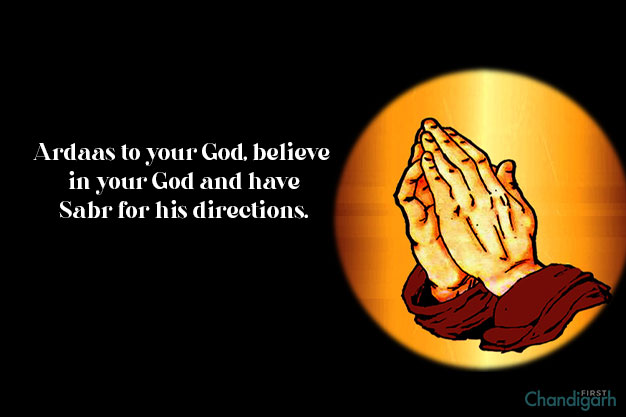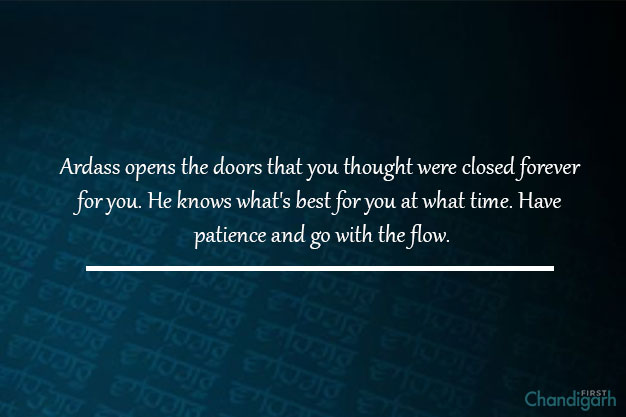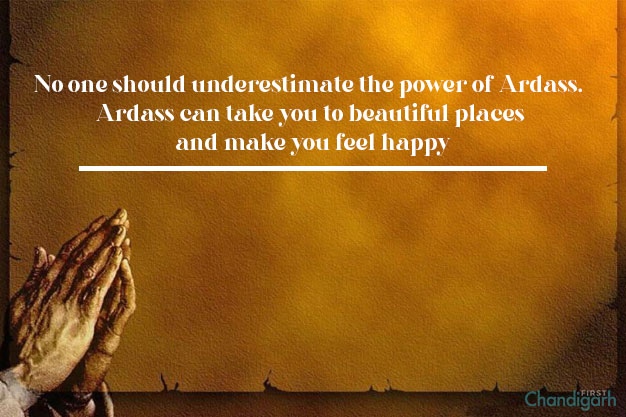 No one should underestimate the power of Ardass. Ardass can take you to beautiful places and make you feel happy. 

Don't give up on the faith that you have in Ardass. Have patience, Waheguru knows all your prayers and wishes.

You can unlock thousands of doors with that faith that you put in Ardass. 

Your one Ardass can change everything in your life. You might think that God is not listening to you, but instead, he is making better stories for you. 

Your story is already written. But with Ardass the story of your life can be re-written. You can change your life by keeping faith in God and trusting his decisions. 

Ardaas to your God, believe in your God and have Sabr for his directions.

Ardass opens the doors that you thought were closed forever for you. He knows what's best for you at what time. Have patience and go with the flow.
Also, know the Top 20 Happy Birthday Sister Images & Wish Ideas
Waheguru Ji quotes quotes on trust, faith and feelings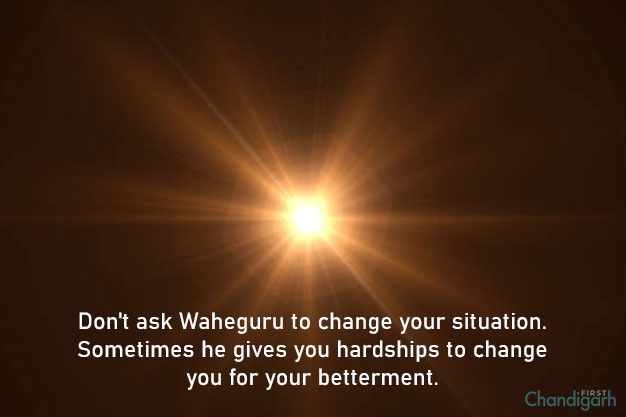 Don't worry about your problem, not even about a single one. Your Ten Gurus have got your back.

God knows everyone's feelings, whether the good or bad that's hidden deep inside the heart.

Stay strong during your battles, Waheguru tests its toughest warriors during hardships. 

When no one will come for your rescue, Waheguru will save you from your demons.

If you keep your Guru Sahib first, everything else will eventually fall into its right place.

If something is mentioned in Akal Purakh for you, it will eventually find its way to you. Doesn't matter where you are or what you're doing, if something means for you it will eventually find y

Pray to Waheguru to give you the strength to fight your battles and not just make your life easier. 

Speak something which will bring you respect and honour. 

Gurbani is the master key to all the doors of life. 

One has to keep faith in themselves to keep faith in God.

Trust Waheguru because he will always stay with you, no matter whether anyone else stays or not.

Only those who know the meaning of love can feel the presence of God. 

Be grateful for all those hardships which made you closer to your God.

Thank Waheguru for all the happiness he has given to you to date and it will never stop coming. 

Hold the hand of someone whom you won't leave during your happiness and they won't leave you during your sadness.

Believe in God and give your best. Leave all the rest to Waheguru.

Choose wisely between love and yourself.

Don't ask Waheguru to change your situation. Sometimes he gives you hardships to change you for your betterment. 

People change colours but Waheguru changes time.

Be kind to people and have courage in yourself. 

Give your worries to Waheguru because he's the one who cares for you. People can leave you in your difficult times but Waheguru won't leave you in your worries. 
You may want to listen beautiful Satnam Waheguru Ji Simran by Harshdeep Kaur which has over a million views on Youtube.
Summing Up
Following Waheguru's quotes in life achieves peace, energy, confidence and belief in ourselves. Apart from just reading these quotes, one should understand the actual meaning of these quotes and imply them in his/her life. Total submission to God helps achieve Divine greatness and utmost peace. In this selfish and cruel world, we need to maintain our sanity and peace which Waheguru's quotes help us do so.