Summer doesn't have to go so soon. With portable fire pits, you can extend the season and enjoy your outside area for an extended period of warm and comfy time. Even during winters, you will be able to experience nighttime relaxation after a long day.
You don't have to be a camping enthusiast in order to unwind and chill before a fire pit. You don't even have to create a permanent fire pit in your backyard. A lot of portable fire pits can be found at E-commerce sites like Amazon, Home Depot, and Lowe's that can make it easier for you. Portable fire pits weigh light and are compact, making them extremely easy to pack and carry. Some are even foldable or fold into carrying cases, making them easy to store when not in use.
The abundance of options in the fire pit market might be overwhelming but the positive side of it is that you get more options to find the perfect match for the perfect occasion that you need it for.  Whether you want a fire pit that starts with the click of a button or one that is non-smokey, our list of top 7 portable fire pits will help you pick your right fit.
Also, know the Best Campfire Cooking Kit to add your Camp Kitchen
Best Portable Fire Pits for Camping
Here is our selection of the top 7 portable fire pits on the market these days.
BioLite FirePit+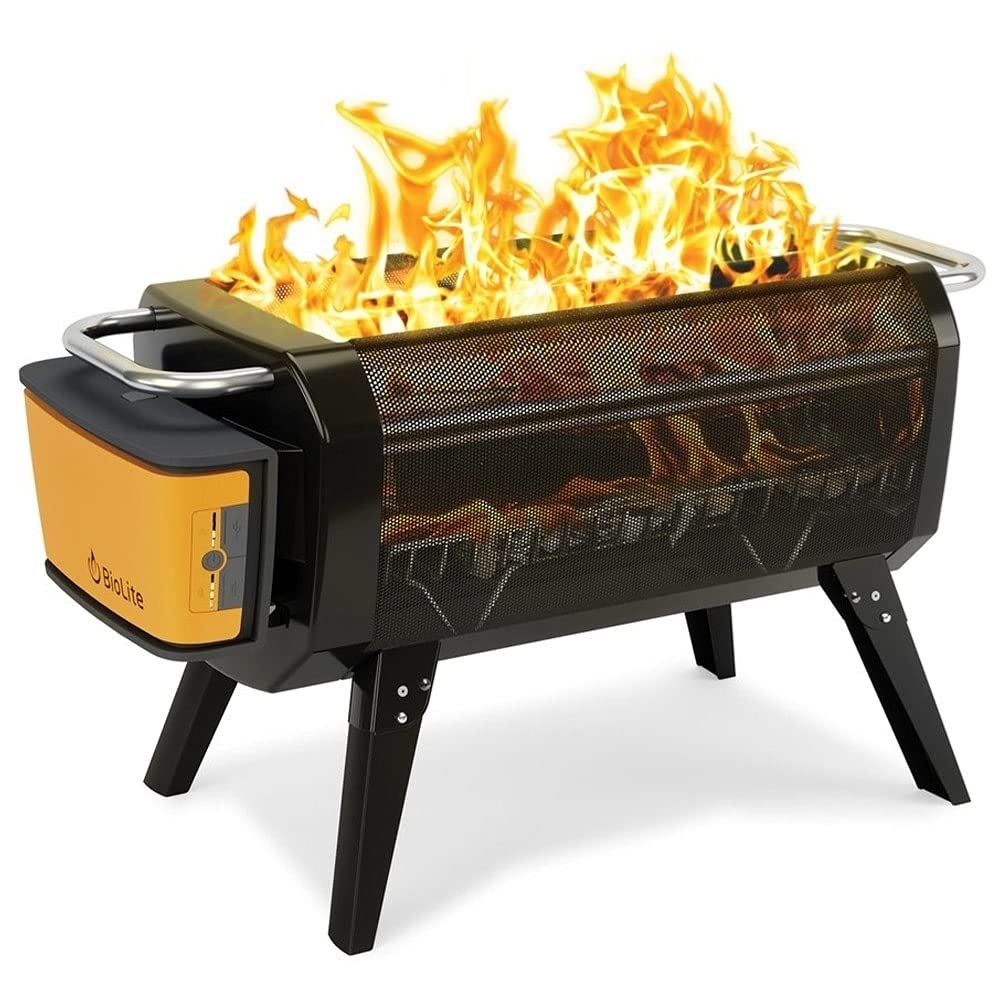 Bring the BioLite Firepit+ with you everywhere you go, and starting a fire from spark to flames becomes as simple as a pie in just 30 seconds. It is a smokeless fire pit that comes with a free Bluetooth app that allows you to manually or remotely size the flames as well as heat output. It generates hyper-efficient flames with proprietary airflow technology and offers you comfort even in the coldest weather. The built-in battery provides run time ranging from 7 hours to 30 hours depending on the intensity of heat. You can even use this fire pit to get an enchanting Hibachi-style grilling experience since it comes with a grill grate, all you have to do is add charcoal or wood.

Outland Living Firebowl 870 Premium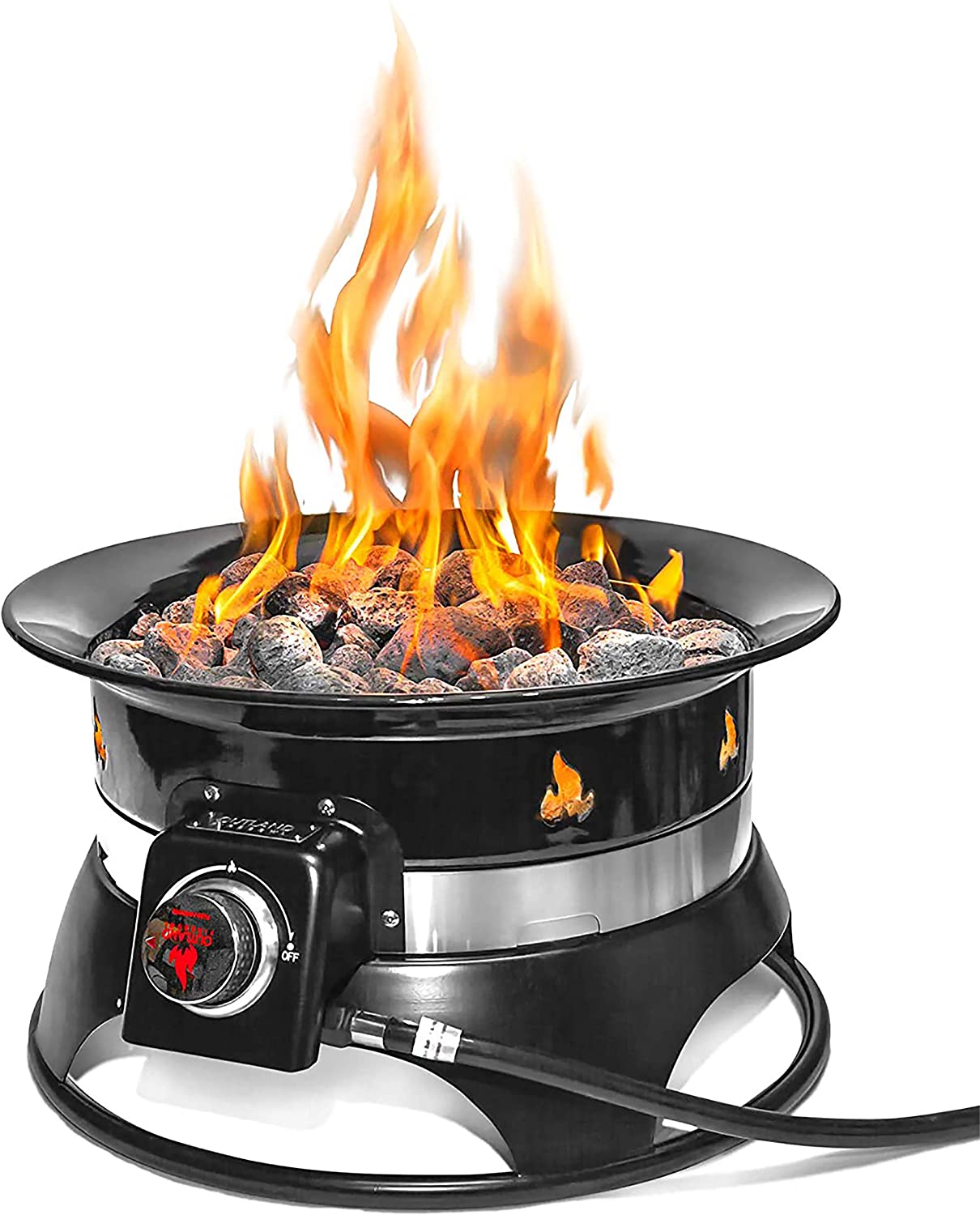 Outland Firebowl Premium propane fire pit is a compact, lightweight, portable, and convenient Firepit that creates smokeless flames and allows you to have an incredible fire experience. It has an unrivalled auto-ignition function and includes everything you need, except a propane gas tank, Natural Gas Conversion kit 785 that is CSA certified, and standard carry bag 760 which must be purchased separately. 
Radiate Portable Campfire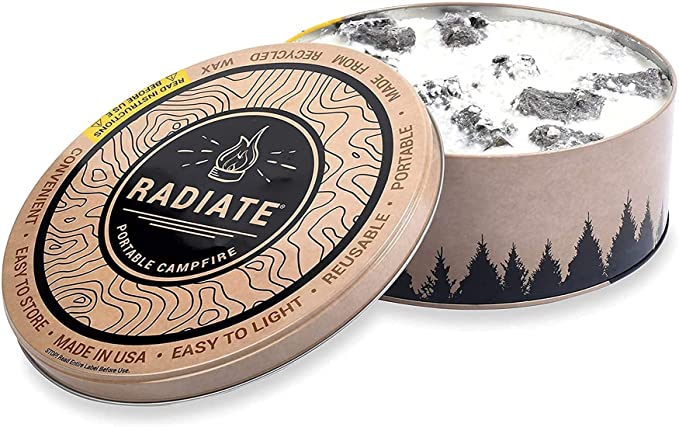 The portable, compact, easy-to-light, and easy-to-use fire pit is composed of recycled soy wax and paper briquettes that are meant to burn without embers or smoky odours. This Portable Campfire has a shelf life of 3-5 hours and a clean-up method that comprises placing the lid on the container and throwing it away. There's no reason not to save money on multi-pack purchases when they have a 30-year shelf life.
Snow Peak Pack & Carry Fire Pit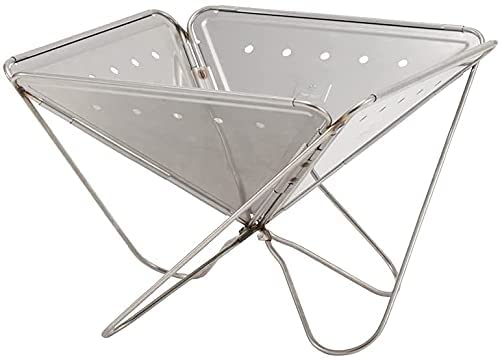 This extremely portable firepit folds fairly flat for simple storage and travel, and at less than eight pounds, you save both bulk and additional weight while trekking and camping — the $150 price tag include a nylon carry case. This Fire Pit can burn both charcoal and wood, and you can customise it with a choice of sleek accessories for grilling and other sorts of cooking. What truly distinguishes this product from others is the fact that it is available in three different sizes to fit your specific outdoor cooking requirements.
Solo Stove Yukon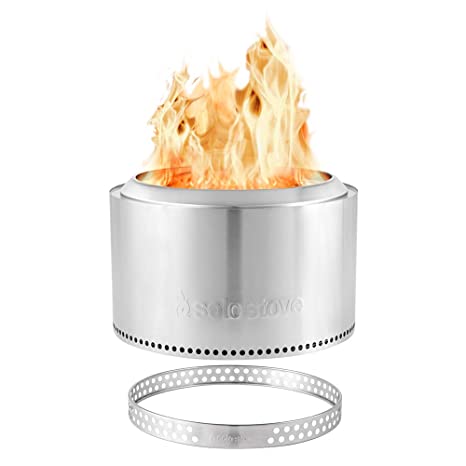 The Yukon is stylish. It's a fire pit that belongs on a patio or in the backyard, surrounded by attractive deck furniture and a grill.  Owing to its huge size and lack of handles, it is significantly less portable than the other pits on this list. The stainless-steel cylinder includes holes around the base that suck in air, reducing smoke and speeding up the burn. The Yukon ripped about 15 logs for around three hours, which is what we'd typically use over an entire winter day, with very little ash clean up afterwards due to how thoroughly the Yukon incinerated the wood.
Fireside Outdoor Trailblazer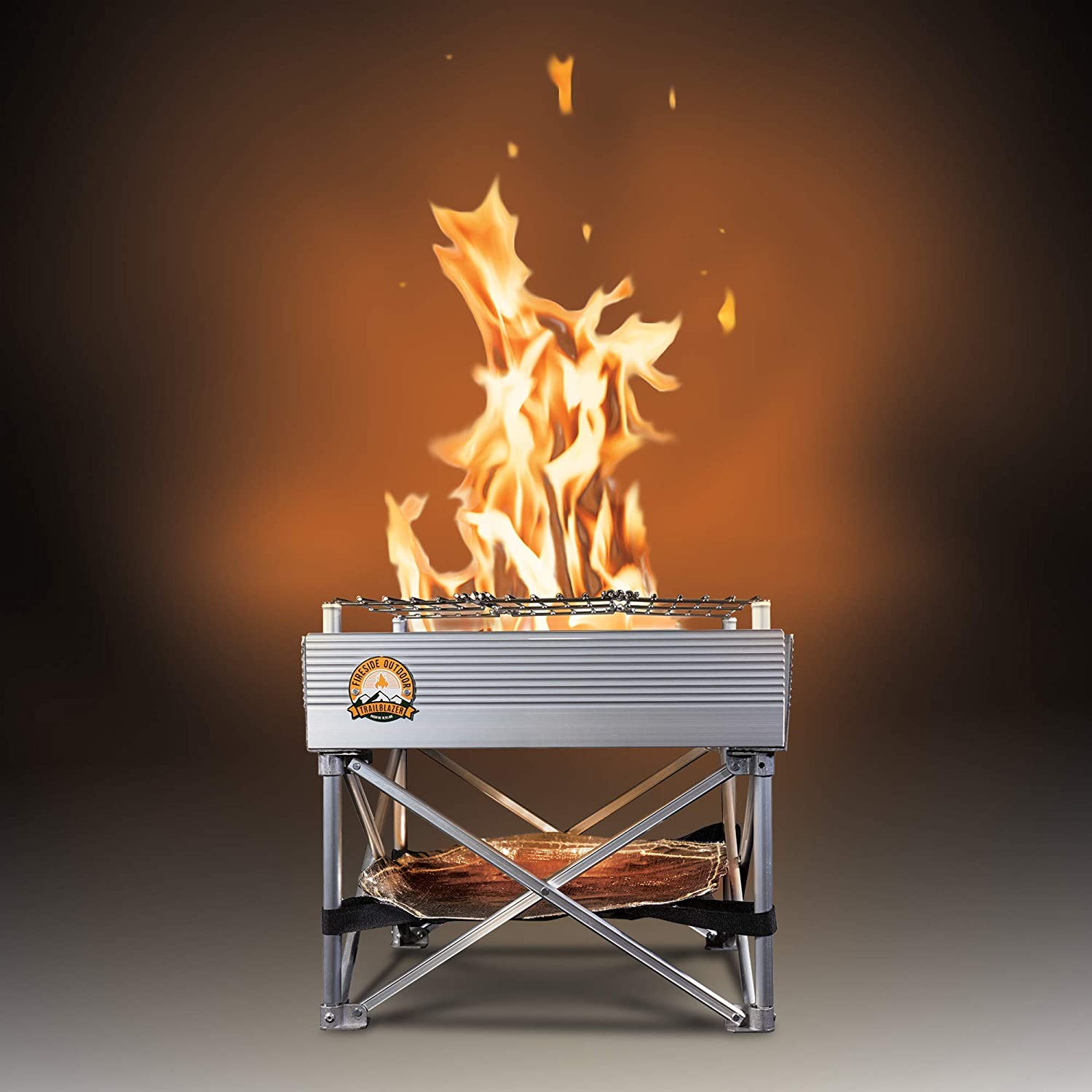 Fireside Outdoor Trailblazer comes with a simple but robust design and cross-braced construction for stability on windy nights or high areas. The Trailblazer's lofty walls do a fantastic job of shielding the flame from the wind on a blustery day. The set-up is a little more complicated than with some of the other pits on our list. The set-up involves the difficult and somewhat tricky task of wiring up the heat shield on the frame. The tri-fold grate over the top makes it easy to feed the fire, one could easily slip smaller sticks through the gap to keep the flame burning. It comes with a 45- pound weight limit that is rare to be overloaded. The Trailblazer is intended to serve multiple purposes like a camp stove, campfire, and barbecue all in one small package that use wooden logs, sticks, charcoal, or wax logs to burn.
Threshold 11″ Round Outdoor Tabletop Fire Pit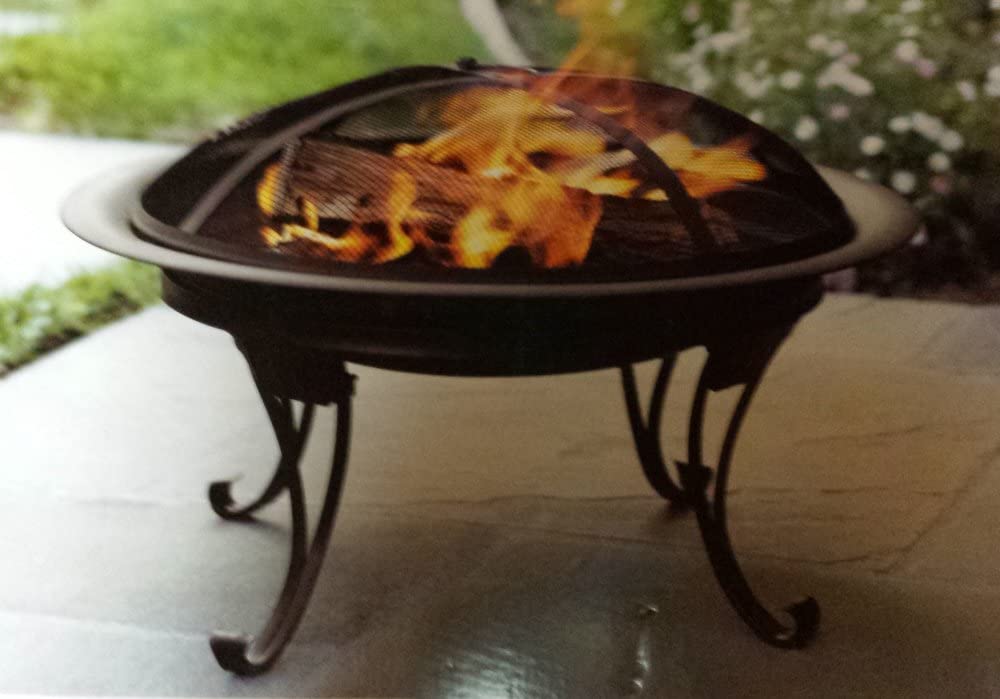 This compact fire pit comes with lava rocks to enclose the flame and a knob for regulating the flame intensity, offering increased power and control than other small fire pits in the market. It runs on propane and is designed using weather-resistant and thermal-resistant components that make it ideal for outside use.
Conclusion
Want to spend a lot of money on a fire product? Try getting one that fits within your budget and isn't too concerned with sustainability. Consider purchasing a convenient, small size, lightweight one for your outside excursions, which will spare you the bother of constructing it and also save you time.
If you're thinking about getting one for your outdoor gatherings, parties, or dinner nights and want it to last a long time, look for ones with a high heat output, simple maintenance, and extended durability. In this scenario, don't be afraid to pay a few additional dollars because it will be a worthwhile investment. We hope our list helped you. Have a fun time enjoying the warmth of your fire pits!