Music can make your tour or travel easier, relax your body and mind and also lift your mood. This is one of the reasons why car manufacturers never forget to put speakers in the cars. From the high-end car models to the lowest ends, you will find car speakers in all of them. But what about a bike or motorcycle? Do they come with speakers too? Can you use speakers on your motorcycles to make your riding journey relaxing and fun? The answer is, yes, you can. Although normally, regular motorcycles don't come with speakers installed in them, that doesn't mean you can't use them. You can install aftermarket motorcycle speakers in your bikes and improve your riding experience to a larger extent. But, before you go and order a motorcycle speaker for your motorbike, there are a few things that you need to keep in mind. Read on to find out more about them.
Choosing a motorcycle speaker is not easy. Like every electronic, you will spend hours looking for the right one before you buy it. You should see the reviews of the speakers about their performance and connectivity. Reviews will help you gather more information and get an insight into what the speaker sounds like and how well do they perform. Be careful in your selection else, you will end up with a faulty speaker and amplifier. So, before you go with your choice of motorcycle speaker, there are a few things you should look for in a speaker. Some of the most important things to look for when choosing a wireless speaker is connectivity, waterproof capability and stereo speaker.
Important Factor to Consider Before Buying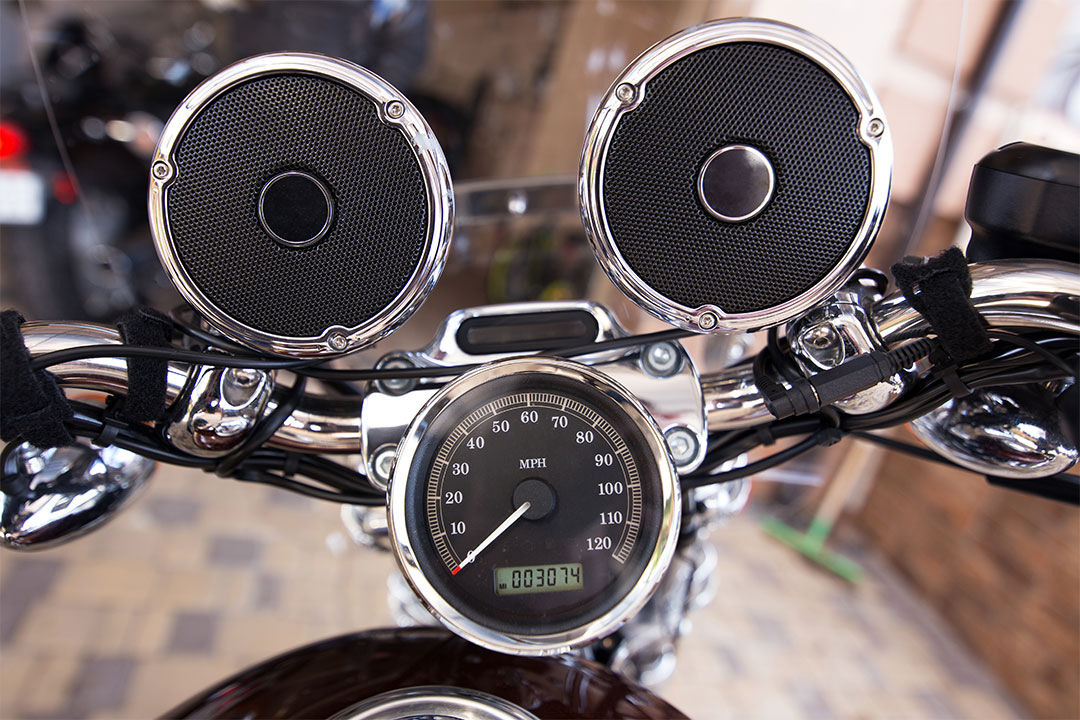 High-Quality Sound
When buying a speaker, the sound quality and the audio level are the first thing you should look for. The same principle stands even if you are buying a motorcycle speaker. If the sound output and the quality is bad then the speaker is just a waste of money. So, you should first test the speaker or watch its reviews online. See and hear if the sound quality the speaker offers is the quality you are looking for. You can also check user reviews online to see how the users like the speaker or vice versa. This will allow you to test the speaker before buying. If the sound quality is not nice, then it will diminish your listening pleasure. But if it is nice, then it will enhance your listening experience.
Bluetooth Connectivity
Any wireless speaker is only as good as its connectivity. So, the speaker that you are planning to buy should be able to connect to a Bluetooth device. These devices could be anything, from your smartphone to a tablet to your laptop and even to your iPod. The speakers should also be able to support major OS like Android and iOS. Ensure that the speaker is running the latest or newer version of Bluetooth. Although this feature is optional but for wired connectivity, the speakers should have a 3.5mm jack. Any wireless speaker with an older version of Bluetooth will lead you to connection problems. So, ideally, you should go with a speaker with Bluetooth 5.0 connectivity.
Water-proofing Capabilities
A motorcycle speaker, unlike a car speaker, will get exposed to the elements and the harsh weather. So, it should be water-proof and should have a good water-resistant rating. This will ensure that your wireless speaker will work even if you get caught in a bad weather condition. Waterproof or water-resistant speakers are tough and can survive the elements to some extent depending on their IP rating. So, the higher the IP rating, the more likely it is that it will work even after being exposed to a rainstorm, a hailstorm, or a snowstorm. A good waterproof rating is a must-have for any motorcycle speaker.
There are various things that you should be aware of before you buy motorcycle speakers. They come in various types as well such as  – handlebar speakers, Bluetooth speakers, speakers with built-in amp, marine-grade speakers and more. When you are out shopping for the best motorcycle speakers for your bike, you should keep few things in mind. These things are Bluetooth connectivity, waterproofing capabilities, stereo quality sound, loud sound production, to name a few. These are the most basic requirements that you should look for in a good speaker. Here are some of the best speakers that you can buy for your motorbike.
Top 5 Motorcycle Speakers To Buy
1. Boss MCBK470B Motorcycle Speaker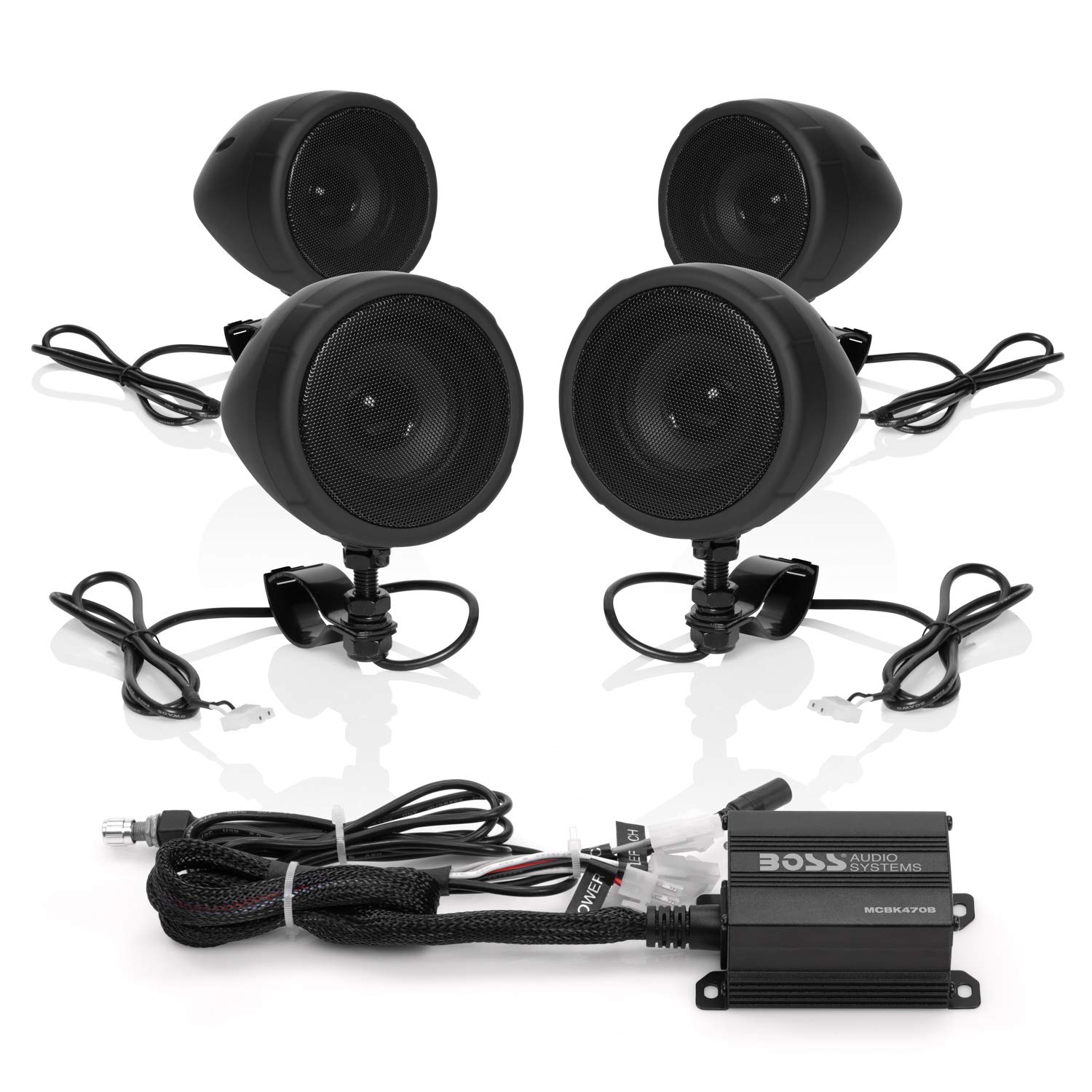 When it comes to speakers, Boss, as a brand is no stranger to the sound sector. It makes some of the best speakers in the world. The company makes speakers as big as party and DJ speakers to as little as Bluetooth speakers for domestic usage. But they also make great motorcycle speakers for motorbikes. Their speakers come with excellent Bluetooth connectivity. You can connect your smartphone or any other music player device with Bluetooth with the Boss MCBK470B Motorcycle Speaker. This speaker is compact, lightweight comes with a weatherproof amplifier. The best part about Boss MCBK470B Motorcycle Speaker is that it comes with a three-year platinum warranty. The only bad thing about the Boss speakers is that they are not on the louder side.
Other than their loudness issues, they offer great sound production and clarity. It also comes with in-line volume control and costs less than some of the speakers on this list. Being weather-resistant means that you can take your Boss MCBK470B Motorcycle Speaker to ride in rain, snow or desert without any issue.1
2. Kuryakyn 2720 MTX Motorcycle Sound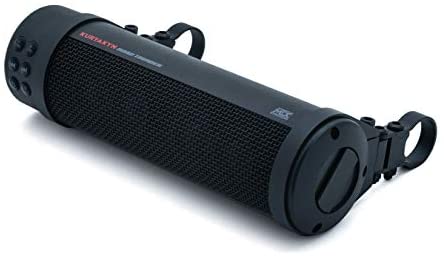 The Kuryakyn 2720 MTX Motorcycle Sound is famous for its reliability and sound quality all around the world. It is a handlebar speaker and you can mount it easily on handlebars. The speaker offers 300 W of peak power output and has an internal 4 channel amp. For connectivity, this speaker from Kuryakyn supports Bluetooth 4.1 and can withstand all weather conditions with ease. The Kuryakyn 2720 MTX Motorcycle Sound also has a USB charging port through which you can charge it and listen to it on the go.
The Kuryakyn 2720 MTX Motorcycle Sound comes with various other features. It has IP66 weather-resistant rating, universal articulating mounting clamps for mounting on the handlebars. It also features a four-channel internal amplifier, along with dual voice coils. The best thing about this speaker is that it offers a brilliant sound quality regardless of the speed that you are travelling on. And because it supports the USB charging port, you can use your smartphone's charging cable and charger to charge it. But it does come with its charging cable and charger.
3. GoHawk TJ4-Q Motorcycle Stereo Speakers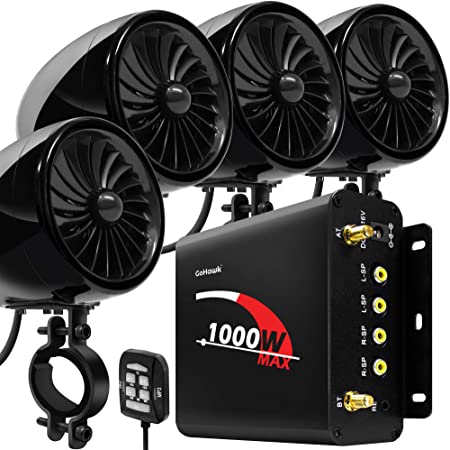 Next on our list of the best motorcycle speakers is the GoHawk TJ4-Q Motorcycle Stereo Speakers. These are high-performance speakers that offer great sound production. These motorcycle speakers come with wired controls that offer full functions to the users. Also, they feature a 4-inch chrome finish speaker housing for the speaker to sit in. The GoHawk TJ4-Q Motorcycle Stereo Speakers also comes with four large mounting clamps. You can use these clamps on the handlebars. The GoHawk TJ4-Q Motorcycle Stereo Speakers is one of the most advanced speakers you can buy.
Other than that, the GoHawk TJ4-Q Motorcycle Stereo Speakers supports Bluetooth 5.0 connectivity capabilities which is better than some speakers here. It has a connectivity range of around 50 feet which is good considering some of the other speakers here. And the built-in four-channel amplifier makes these speakers a top choice for riders. Thanks to its IP56 waterproof design, the GoHawk TJ4-Q Motorcycle Stereo Speakers can survive in all weather conditions. And its Plug and play 12 V power allows it to use it easily. On the downside, the GoHawk TJ4-Q Motorcycle Stereo Speakers has a faulty sound control module, which makes the experience a little less premium. And since this speaker utilizes an advanced IP56 waterproof design, it prevents water damage.
4. Planet Audio PMC4B Bluetooth Speaker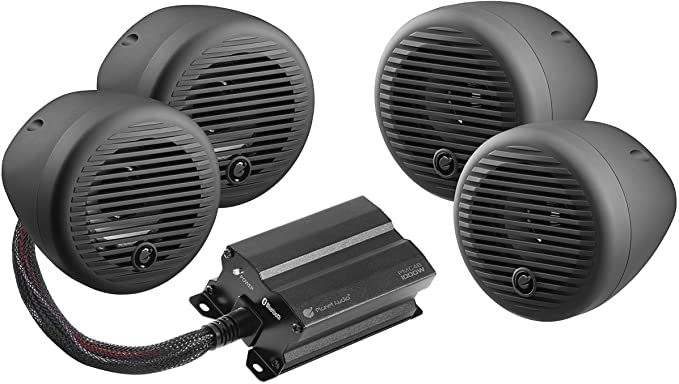 The Planet Audio PMC4B Bluetooth Speaker will give you an audio experience out of this world. You can buy this speaker as dual speakers or quadruple speakers set. You can choose what level of volume you want with this speaker and you can go with either a stereo setup or surround sound setup. This motorcycle speaker offers an exceptional audio experience and its 4-channel amplifier offer excellent sound production. The 3-inch  speakers can be connected with any device with Bluetooth connectivity.
The best thing about the Planet Audio PMC4B Bluetooth Speaker is that each of its speakers offers 250 Watt of power. So, listening to them will be no problem even when riding at high speeds. And since it's waterproof, it can withstand the harshest snowstorm or rainstorms with ease. The flush mounting clamp looks pretty when lit up in blue. You can charge this speaker with a USB cable. Although it's a little tricky to get the installation done, once installed, you will enjoy every moment of it.
5. Boss MC420B Motorcycle Speaker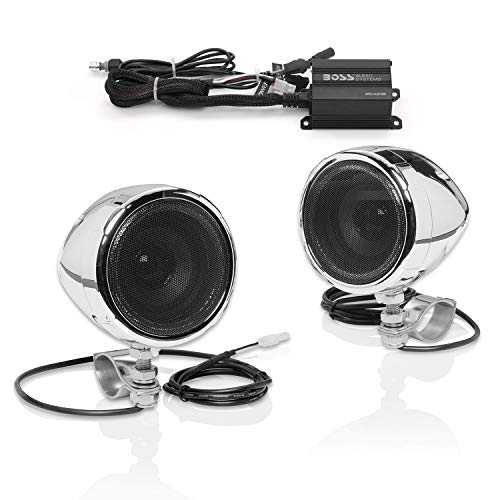 This is the second motorcycle speaker from Boss that is the perfect choice for two-wheelers. The Boss MC420B Motorcycle Speaker is a 3-inch weatherproof speaker that can handle all weather conditions with ease. It features exceptional volume controls, a built-in class D amplifier and a 3-year platinum warranty. Its Bluetooth connectivity allows it to support all MP3 devices like iPods and smartphones, tablets etc. And these are very loudspeakers, which can be a good or a bad thing depending on what kind of music you like to listen to.
Similar to the other wireless speakers on this list, the Boss MC420B Motorcycle Speaker also supports 3.5mm auxiliary input for media playback. And its chrome-like build makes it stand out. It is also one of the cheapest speakers on this list which makes it a good buy. The Boss MC420B Motorcycle Speaker is a good buy if you are looking for good and weatherproof motorcycle speakers with good sound quality.
6. Pyle PLMCA31BT 400-Watt Motorcycle Sound System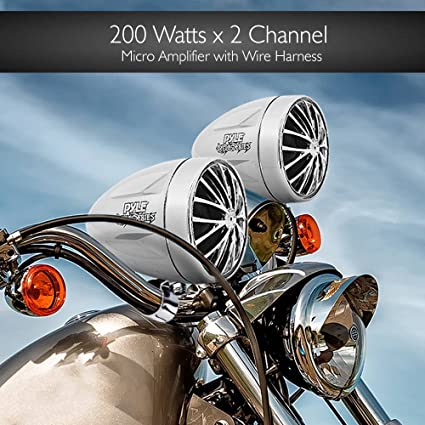 The Pyle PLMCA31BT 400-Watt Motorcycle Sound System is next on our list and it features a powerful 200-wattage power. It's a real loudspeaker that features two 2.25-inch weatherproof speakers. Thanks to their weatherproof capabilities, these speakers can survive any harsh weather condition with ease. And its power is enough to drown the noise of the road offering you a good audio experience. This speaker comes with an amplifier that enhances your music playback.
You can fit and use the Pyle PLMCA31BT 400-Watt Motorcycle Sound System with any motorcycle. Its Bluetooth connectivity v 3.0 is a little outdated but it connects with MP3 devices and smartphones easily. But this speaker also allows you to connect to any music device using the 3.5mm stereo input jack. Thanks to its easy to install chrome mounting brackets, you can mount it to your motorcycle. And its in-line volume control allows you to adjust the volume level easily.
7. LEXIN S3 Motorcycle Bluetooth Speakers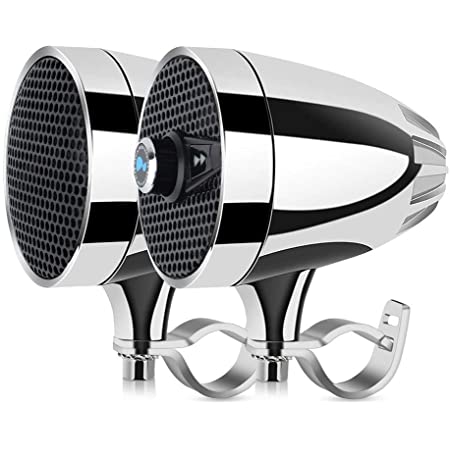 The LEXIN S3 Motorcycle Bluetooth Speakers have easily been identified thanks to their bullet-shaped bar-mount chrome design. They fall a little on the expensive side of the spectrum but they offer a good sound output. With 50 Watts of power, the LEXIN S3 Motorcycle Bluetooth Speakers gives clear and loud audio output. You can connect this speaker with your music devices either with Bluetooth or a USB cable. They are compact sized speakers and are easy to install. These speakers also offer a good FM radio reception that you can use to listen to the radio. It's an all-rounder motorcycle speaker that deserves to be on this list.