Cars are probably the most uncertain and unpredictable thing we own. Either it will work for hours without any problem or it will just create some ruckus in the engine that you will have no other option but to stop midway. If it is a casual drive you are taking then this abrupt stop would not be that of a headache but if it is a road trip with your friends, then this sudden disruption would be a bummer. Keeping a car emergency kit handy can be very beneficial in such situations.
Nobody wants to cancel a long-planned trip just because the car had a sudden change in the mood. Imagine, your excitement crumbling down when your car stops suddenly, that's literally a sad feeling because trips are something we all look forward to.
Why Do We Need Car Emergency Kits?
No matter how much preparation you make gearing up for a long-awaited road trip, something could still go wrong. You need to take precautions because there is never a convenient time for your car to break down. Let's say you checked everything before going on a road trip, like the weather forecast news and all the necessary apps on the phone. But can they be 100% trusted? Are they absolutely reliable? The answer is no.
The weather can change whenever they want, sometimes it can get so bad that you may have to stop the car. Now, about the phones. Maybe you have downloaded all the essential apps but again, they are not something to be trusted completely. To rely solely on phones to get you through roadside emergencies is clearly a troubling move. What if you are stranded in a place with zero networks? Then phones can't help you with anything. You need to carry something that can be 100% trusted and that something is a roadside emergency kit. 
Importance Of Car Emergency Kits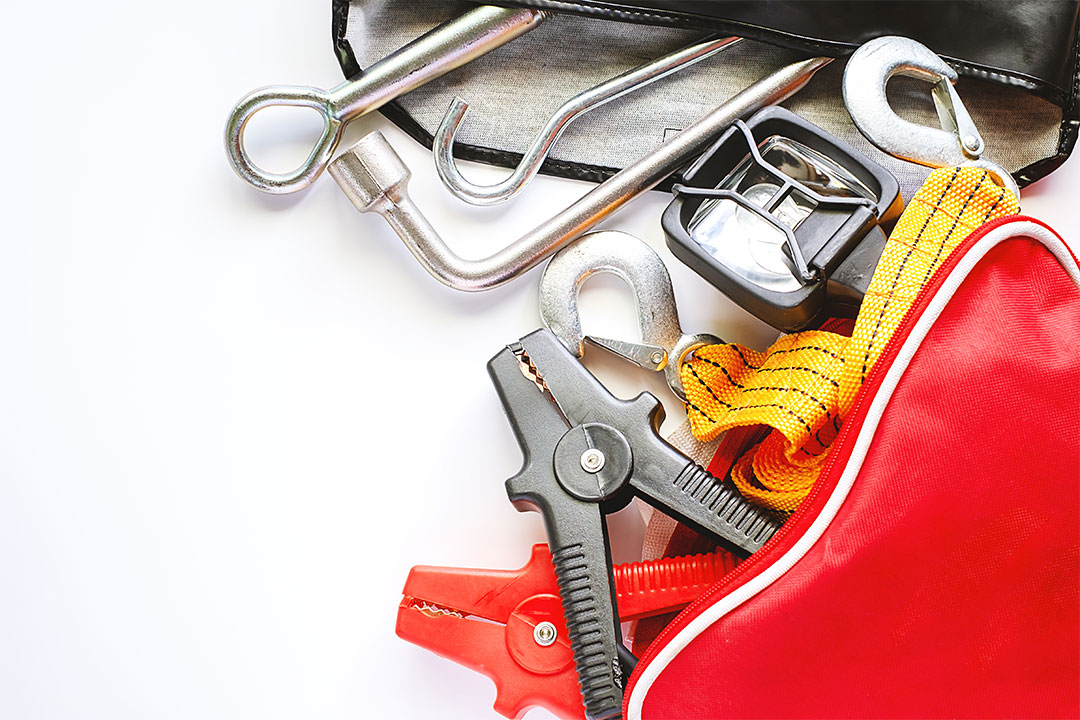 Imagine getting stuck at an unknown place with zero networks. You will wish for something that would help you fix your car. This is the moment you will realize the importance of emergency car kits because they are everything that you need during such a situation. A properly equipped roadside emergency kit has a number of useful tools and appliances that will keep you safe while parked alongside a busy road or an empty highway. 
Car Emergency Kits are usually equipped with beneficial things such as a first aid kit, a flashlight, batteries, screwdriver, and other items to keep you safe and active during this stressful situation. Some kits even include tools that will help you fix your car so you can continue your journey without further distractions.
 You have learned the importance of car emergency kits, now, it should be the first thing you should pack before going on a road trip with your friends and family. The cool thing about car emergency kits is you can prepare one for yourself.  You can piece together your own kit, adding everything you need. But doing so takes a lot of time and can even cost you a handsome amount of money.  So, it is better to buy a pre-made emergency kit.
Best Car Emergency Kit to Help You Be Prepared for Your Next Road Trip
There are a number of pre-made car emergency kits that come at different sizes and prices you can choose from according to your comfort. These well-equipped car emergency kits will help you travel with confidence because you know if an unexpected breakdown occurs, you have an emergency car kit that will help you deal with this situation.
It all comes down to getting the best emergency kit for you. There are tons of options available and each of them is better than the other. You should buy an emergency kit that has the best of everything. Check the items included in the kit, the quality of each of them, whether any important tool is missing or not, and most importantly, the price range. Below Is The List Of Best Car Emergency Kits.
Best Car Emergency Kits
The Kolo Sports Premium Auto Emergency Kit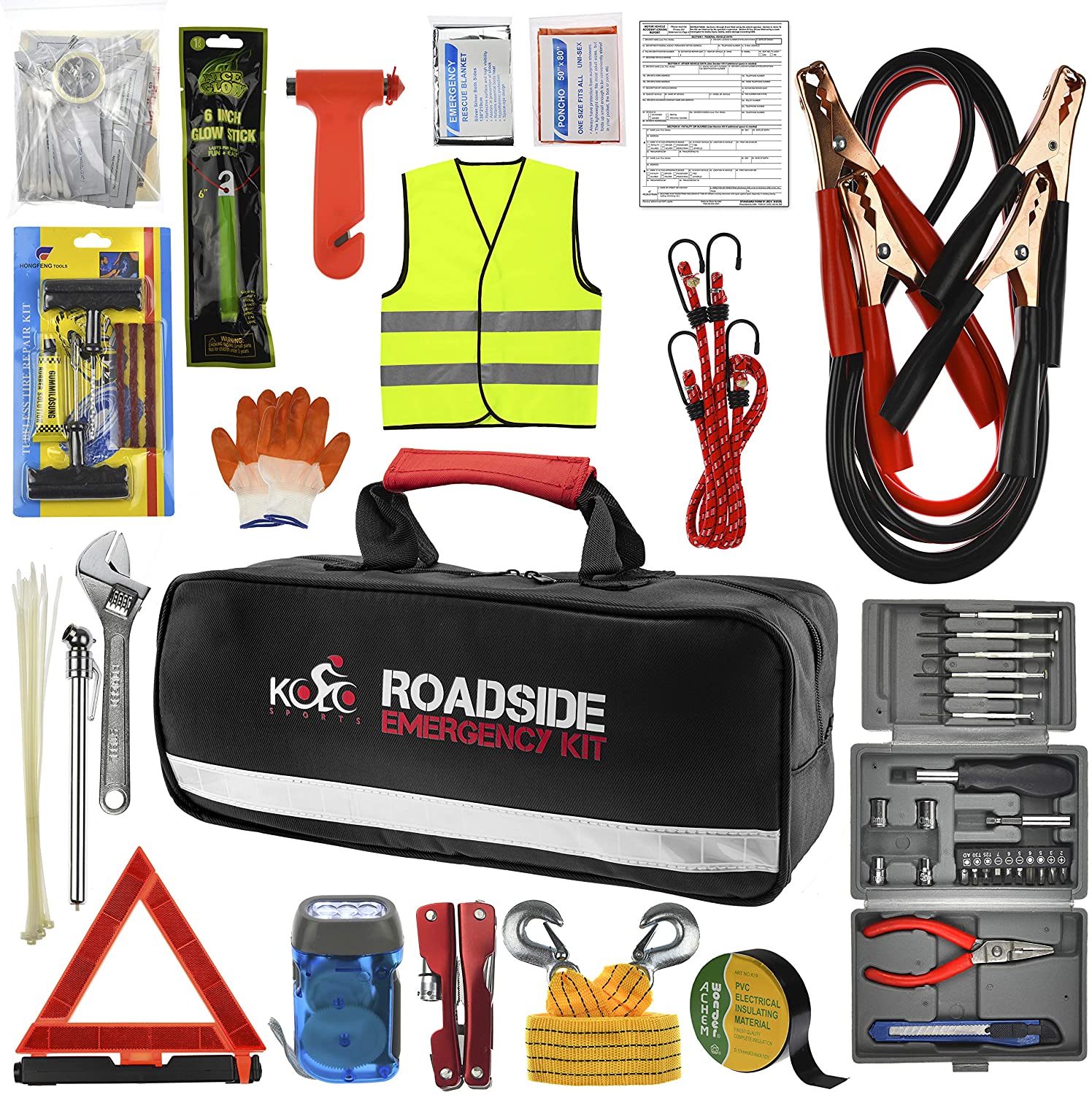 This emergency kit is great for any kind of roadside emergency. This is one of those wholesome kits that will come in handy in any kind of situation. They have around 158 items in total all packed into this amazing emergency kit! Think of any troubling situation and you will find a tool that can help you for the same, in this neatly packed kit.
The Kolo Sports Premium Auto Emergency kit doesn't have any unnecessary tools to take up the space, whatever is inside the kit is essential for a road trip. This kit includes – battery booster cables for your damaged car engine, warning triangles to keep you safe, and a tire repair tool for punctures. The most important one- a fully packed first aid kit is in there too. Kolo kits will give you the confidence to hit the road because you know that this kit has everything you need, especially those safety items such as a neon safety vest, reflectors, an emergency blanket, and gloves. Get a full package at affordable rates!
The Lifeline 4388AAA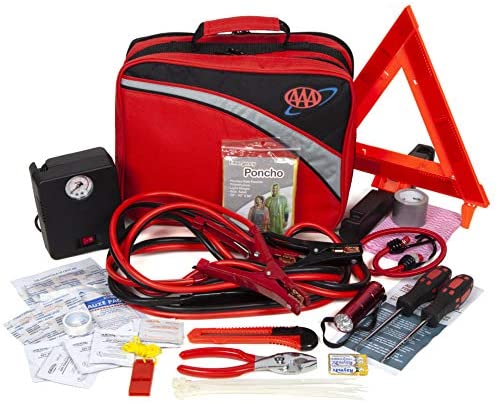 The name of the kit reflects its purpose. The lifeline kits are more expensive than a lot of average emergency car kits, but they also come with a lot of useful items that others don't have. So, you will get a lot in return for the extra money you spend. There are a total of 76 items present in this kit. A car compressor is one of them, they also have a jumper cable and loads of safety equipment, including a safety knife.
The Lifeline 4388AAA Kits earned widespread popularity because of the quality of the items they use. All the tools included in the kit are of a top-notch quality which comes with a guarantee to last longer. The tools are built for all kinds of emergencies and even the bag itself is very durable. These neatly packed kits are of the perfect size to fit inside the trunk of your car, still leaving enough space for your other things. The only thing is that they are very expensive, apart from that these kits are an excellent choice for road trips.
Also, know the 5 Best Kids Electric Cars in India
Autodeco Car Roadside Emergency Kit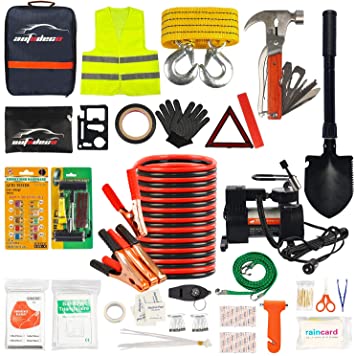 This kit is a perfect match for frequent travellers. The kit includes everything that may come in handy for all kinds of car situations. The Autodeco Car Roadside Emergency kit even has a roadside triangle and yellow traffic vest for added visibility. This company has used only those tools which are useful and even added some tools which are not included in many other popular kits. These kits are known for the collection of unique and extremely useful items that don't have frequent occurrences in other famous emergency kits.
The kit includes- a 12-volt compact air compressor, blade, a tow rope, and a hammer, car fuse kit, a reflecting roadside warning triangle, and a compass, a rain poncho, and work gloves, emergency blanket, tire pressure gage, zip ties, and electrical tape. These are not everything, these are just a glimpse of the important things the kits have, making them an exceptionally good choice for regular travellers.
The EVERLIT 250 Piece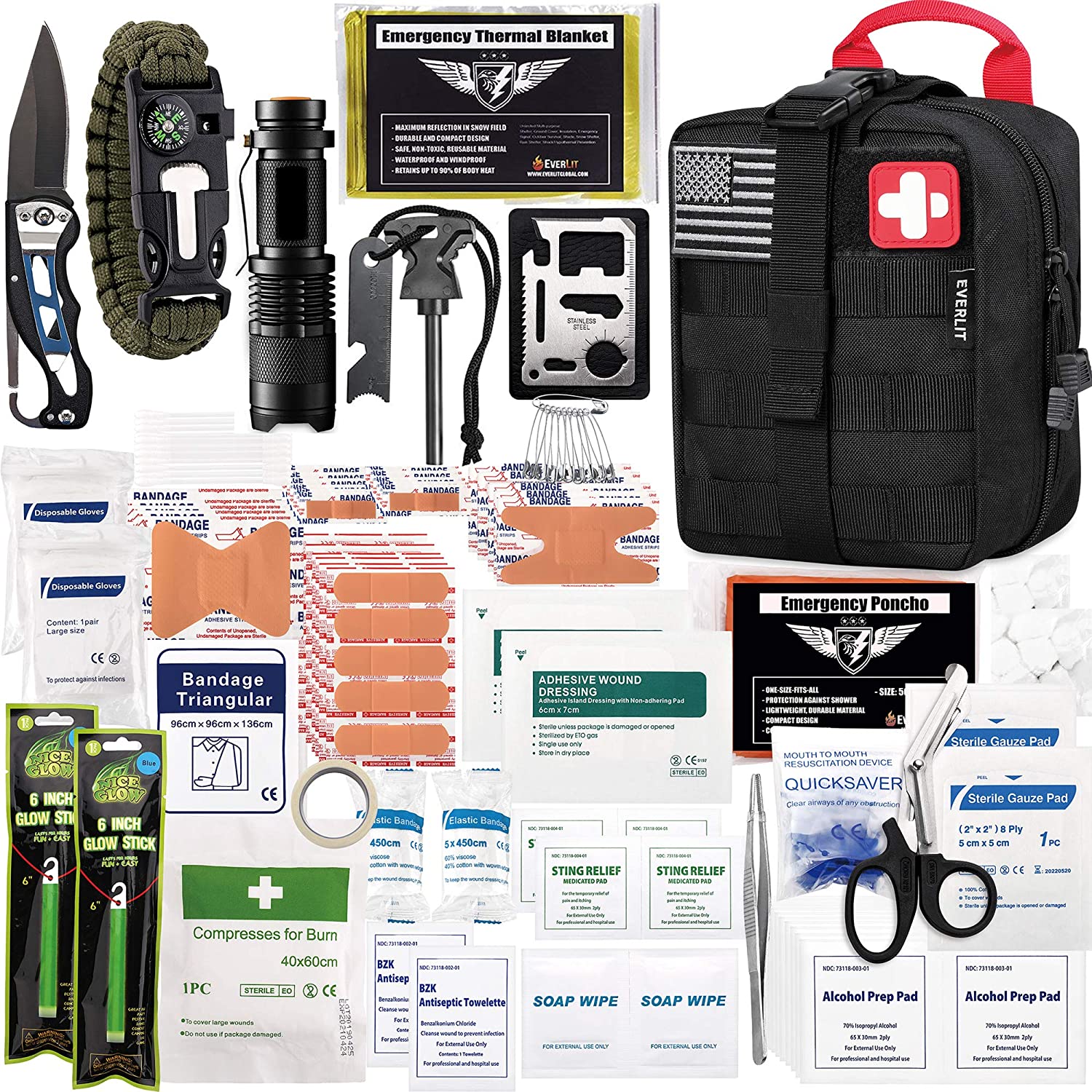 As the name suggests, these kits have a total of 250 items. This kit has everything one may need for survival if one gets stuck in an unknown place for hours. The unique thing about these kits is that they ex-army members have tested them. This makes this kit the best of everything.
This kit includes an FDA-approved Aid kit, meaning everything important is inside the kit. These kits will help you relax even more. This is because you know if something bad happens you have everything to handle the situation. One thing to remember is that the kit focuses more on safety replacement and less on car-specific items.
WNG Brands Roadside Assistance Emergency Car Kit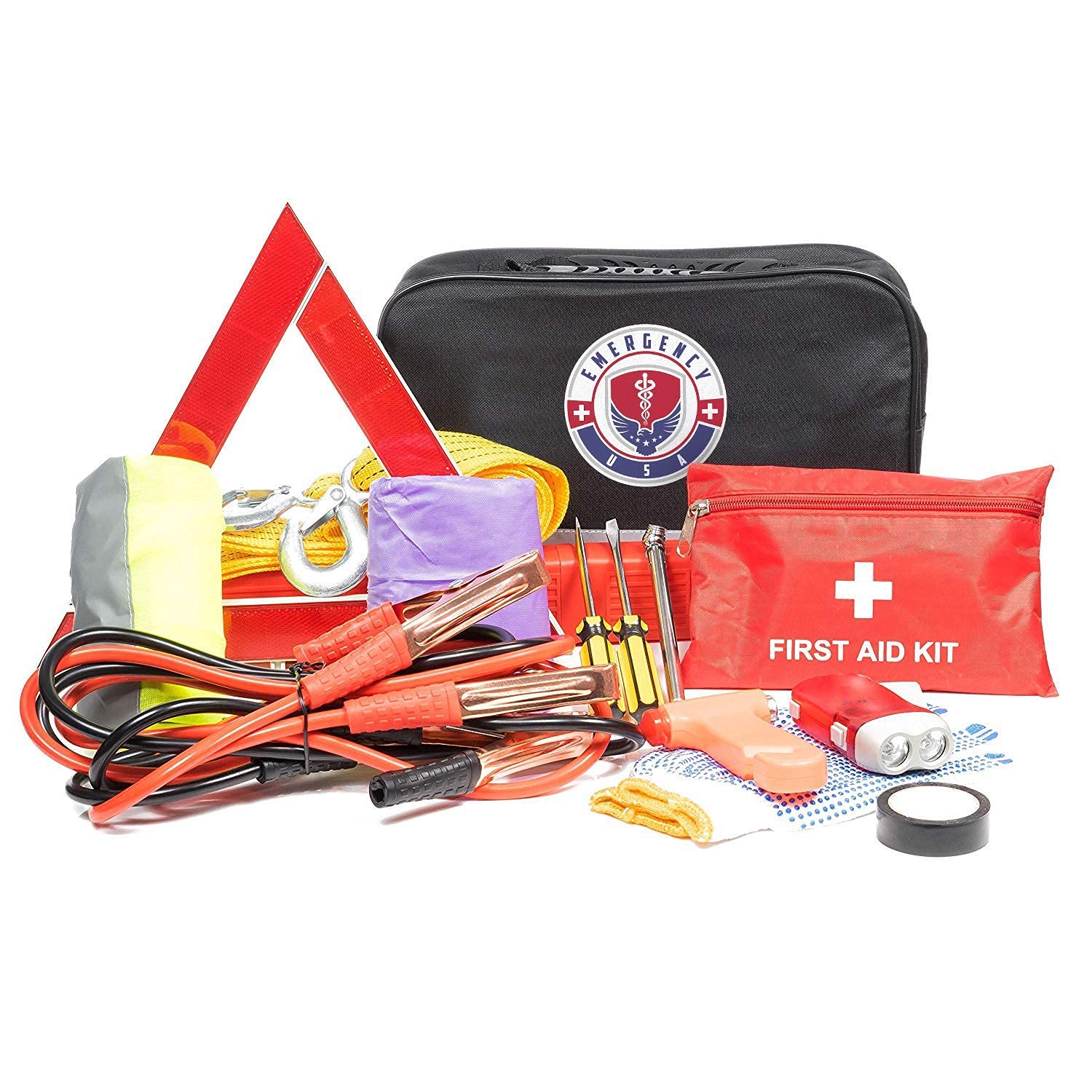 The commendable thing about this kit is that they have everything that needs to be included in a perfect emergency car kit. But still is the cheapest kit available. All the items they have are of high quality. Of course, you are not going to get hundreds of items, they have minimum tools but all of them are extremely useful.
You will get a set of jumper cables and a first aid kit as well. The kit can be stored anywhere as they are small. It is best for new drivers who won't travel too far but could still get stuck in a car breakdown.
Car Emergency Kits are literally a stress reducer in case your car stops working. Just like how you don't leave your house without your phone and wallet, you should not hit the road without keeping a car emergency kit with you.